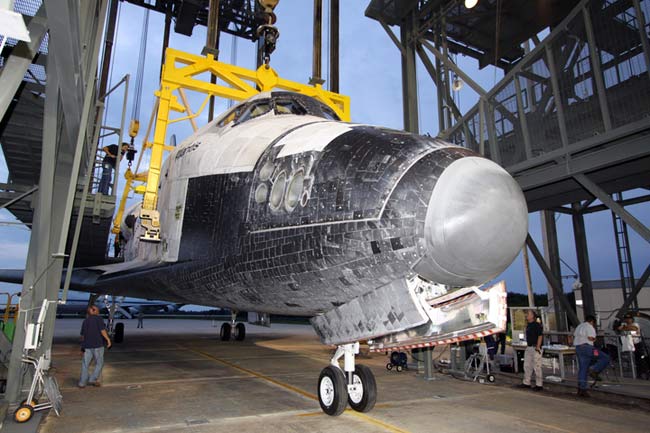 CAPE CANAVERAL - NASA next week will try to free a knob stuck between the dashboard and a cockpit window on shuttle Atlantis - a problem that some fear could trigger lengthy launch delays or even an early retirement for the orbiter.
But NASA shuttle program officials effectively are saying, "Not so fast."
"I think it's too early to know whether it's a big deal or not," said Kyle Herring, a spokesman for NASA's Johnson Space Center in Houston.
"This is just kind of a new issue, and there's a lot of creativity, I'd say, that engineers have, and they'll probably exhaust every option that they have to try to free it," he said. "It's a little premature to say that an orbiter is finished flying because of this."
Here's the situation:
A notched rotary knob from a lighting bracket somehow got wedged between the orbiter's cockpit instrument panel and one of six forward windows during NASA's fifth and final Hubble Space Telescope mission in May. The knob is designed to mount a work light to a bracket.
Somehow, it floated into a recess in the corner of the cockpit, and two edges of one of its crescent-shaped notches are pressing against the inside of the triple-pane window, which is a little more than 2 1/2 inches thick.
Small gouges already have been detected. Engineers are concerned that efforts to extract the knob might exacerbate the damage.
Flying "as-is" is not an option. NASA cannot adequately evaluate the structural integrity of the window with the knob wedged against it.
Another fear is that the effort to free the knob might be so invasive that it could cause serious delays in future Atlantis flights. The next one is scheduled for Nov. 12.
Any disassembly of the dashboard likely would involve the removal of cockpit instrumentation. That could take months to complete.
With shuttle fleet retirement set for the end of 2010, NASA could decide to sideline Atlantis and fly eight remaining missions on Discovery and Endeavour.
Atlantis at one time had been set to retire after the Hubble servicing mission, then serve as a donor of spare parts. As it stands, Atlantis is scheduled to fly two more International Space Station assembly missions. The second is set for May 2010.
Technicians have been unable to free the jammed knob.
Dry ice was applied to it in an attempt to shrink the knob enough to retrieve it. That didn't work, so engineers are examining options that include drilling or cutting it out. "Your primary goal is not to damage the window," Herring said.
On Monday, NASA will pressurize the crew cabin to just less than 18 pounds per square inch - higher than normal pressure at sea level. The hope is that the space between the dashboard and the window will expand enough to free the knob.
An assessment then would be carried out to see if the innermost pane of the window would have to be replaced.
Technicians at Kennedy Space Center routinely swap the outermost panes of cockpit windows - panes that get dinged by micrometeorite or space debris.
But the innermost panes had been changed at a California assembly facility that was shuttered years ago.
Herring said the consequences of such a swap on Atlantis at KSC is not clear.
"There may be other ways to get around changing it out," he said. "But until they get there, it's hard to tell how the schedule will play out. So whether that would be an impact to a November flight is" to be determined.
New Video - Almost Done: The International Space Station

Image Gallery - Shuttle Endeavour Blasts Off at Night

Video Show - Hubble's Final Shuttle Service Call
Published under license from FLORIDA TODAY. Copyright ? 2009 FLORIDA TODAY. No portion of this material may be reproduced in any way without the written consent of FLORIDA TODAY.