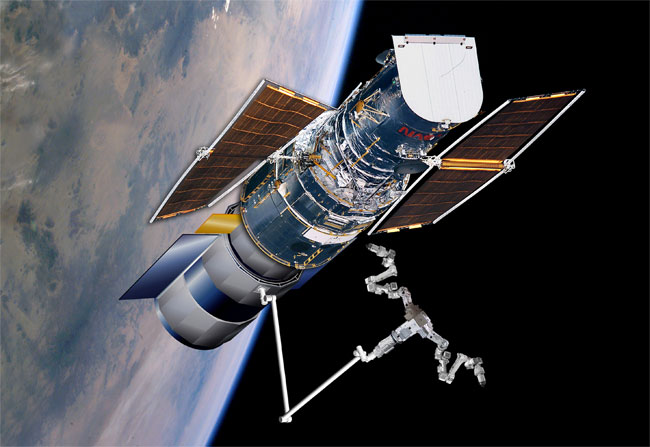 NASA has given the go-ahead to a Canadian firm to work on a possible robot-salvage mission to the Hubble Space Telescope (HST). The contract is valued at $154 million and builds on the space robotics work of MacDonald, Dettwiler and Associates (MDA) Ltd through its MD Robotics group in Brampton, Ontario.
The awarding of the HST contract work is a milestone in a go/no go decision due next summer when NASA will decide whether or not to proceed with the observatory's servicing by robotic means.
The Canadian firm built the "Canadarm" -- the robotic arm technology often used on space shuttle missions.
In addition, under government contract to the Canadian Space Agency, MD Robotics -- with the help of a Canada-wide industrial team -- developed the robotic systems that represent Canada's contribution to the International Space Station (ISS).
A Mobile Servicing System provides the ISS with sophisticated space-based robotics to assemble, transport, and maintain payloads in orbit, as well as help build and maintain the space station itself.
Extending human reach
In a statement announcing the contract, MDA touted MD Robotics work for a prospective Hubble repair mission as positioning the company "as the world leader in extending human reach in hostile environments with great precision and reliability."
Based on Canada's space robotics technology called Dextre, MDA will design a concept that could support the repair and upgrade of the Hubble space telescope. That is, if NASA conducts such a mission.
Dextre is the dual-armed robot built by MDA under contract to the Canadian Space Agency to conduct exterior maintenance of the International Space Station.
That robot is specially designed to perform complex tasks in the harsh environment of space, such as installing and removing batteries, power supplies, computer units, and scientific payloads.
According to a statement from the Canadian Space Agency, Dextre will be adapted to replace batteries, gyroscopes, and perhaps an instrument on the $1.5-billion scientific Hubble Space Telescope to extend its life.
Controversial decision
The move to use robots to service the Hubble Space Telescope rather than spacewalking astronauts remains controversial.
Outgoing NASA Administrator, Sean O'Keefe, has been steadfast in his decision not to risk astronaut lives conducting such a mission. O'Keefe cancelled Hubble servicing via space shuttle attendants following the loss of shuttle Columbia and crew in early 2003.
However, a study performed by a special blue ribbon panel of the U.S. National Research Council recommended to NASA last month that the space agency should scrap plans to service the orbiting telescope robotically. The study group advised that a space shuttle crew could perform the work and doing so was the best option available.
Classified work
Dan Friedmann, President and Chief Executive Officer of MDA, explained in a statement: "The Hubble mission and our strategic participation in other space missions will demonstrate that robots can cost-effectively complete complex tasks in space, while working together with astronauts on the ground."
If given the final go-ahead, the robotic Hubble mission would follow on the heels of two U.S. military satellite missions that will utilize MDA's solutions to perform similar tasks.
According to the company, MDA is involved in two other important unmanned U.S. military satellite missions. MDA recently shipped a space-based solution for a classified satellite observation program, and is in the final stages of another previously announced key space servicing mission.
A statement from Canadian Space Agency (CSA) explains that a successful robotic servicing mission could prolong Hubble's life expectancy well beyond 2010. Without such a mission, the space observatory could fail as soon as 2007.
"Through the Government of Canada's long-standing commitment and vision, we have earned a reputation for leadership and innovation in space robotics, an expertise that is second to none," added Marc Garneau, President of the CSA. "NASA's recognition of the expertise of MDA is a source of pride for all Canadians," he concluded.