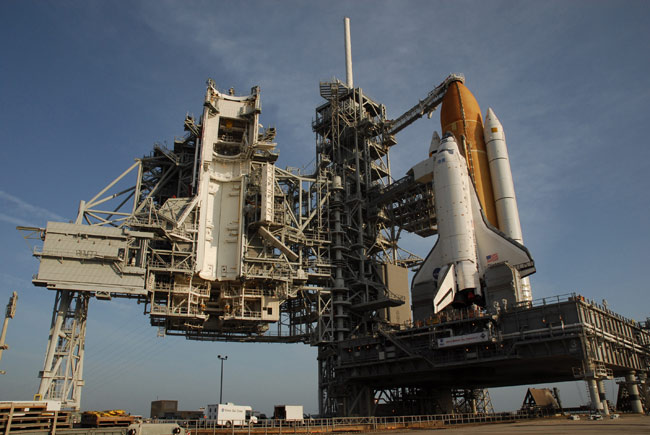 NASA?s shuttle Discovery and its seven-astronaut crew are cleared to launch toward the International Space Station (ISS) on May 31 to deliver the high-flying laboratory?s largest orbital room, mission managers said Monday.
Discovery is officially set to lift off from NASA?s Kennedy Space Center in Cape Canaveral, Fla., on a two-week mission to install Japan?s massive Kibo laboratory at the space station. The shuttle will launch at 5:02 p.m. EDT (2102 GMT) on May 31.
?It?s a challenging mission,? said John Shannon, NASA?s space shuttle program manager, during a mission briefing today. ?It?s the largest international partner laboratory flown.?
Commanded by veteran shuttle flyer Mark Kelly, Discovery?s STS-124 astronauts plan to perform three spacewalks during their 14-day mission to attach the 37-foot (11-meter) segment of Japan?s Kibo lab, relocate the tour bus-sized module?s attic-like storage compartment and perform other station maintenance.
They will also replace American astronaut Garrett Reisman with fellow U.S. spaceflyer Gregory Chamitoff during the spaceflight despite an ongoing investigation into the Russian Soyuz spacecraft that serve as emergency lifeboats for station crews.
Soyuz landing issues
NASA shuttle and station officials considered delaying Discovery?s mission due to an ongoing investigation into last month?s harrowing, off-target landing of a Russian Soyuz spacecraft returning three astronauts home from the ISS. Russian engineers are working to identify the exact cause of the malfunction - the second in a row for Russia?s Federal Space Agency.
The Soyuz TMA-11 vehicle returned to Earth on April 19 with U.S. station commander Peggy Whitson and two crewmates aboard. But the spacecraft experienced a module separation problem and a glitch that sent it into a backup, ballistic landing mode that reentered the Earth?s atmosphere at a steeper-than-normal angle that landed short and subjected the astronauts to extreme G-forces.
Another Soyuz spacecraft currently docked at the station, however, is clear for use in an emergency, leaving NASA officials confident that it is safe to replace Reisman with Chamitoff during Discovery?s STS-124 mission after next week?s launch. Chamitoff is due to return to Earth in November during a subsequent shuttle flight.
?We now know that the Soyuz is acceptable for emergency return; it?s acceptable to leave Greg on orbit,? said NASA?s space operations chief Bill Gerstenmaier. ?So that?s our basic plan, and that?s the way we?re heading.?
Gerstenmaier said that while Russian engineers hope to release their initial findings by the end of the month, a final answer on whether Soyuz spacecraft are clear for routine use is still pending.
?I don?t think they?re near a final resolution,? he added. ?It?s going to take a little bit time for them to work through this to understand what they?ve got and what the root cause is.?
New fuel tank to fly
Discovery?s May 31 launch will also include the first flight of an external shuttle fuel tank built from scratch with all of the safety modifications stemming from the 2003 Columbia accident. A piece of fuel tank foam insulation popped free during the shuttle Columbia?s Feb. 1, 2003 launch and damaged the orbiter?s heat shield, leading to its destruction and the loss of seven astronauts during reentry.
?This essentially is the completed return-to-flight tank,? Shannon said of Discovery?s fuel tank. ?I expect this to be the best performing tank that we have had to date.?
Discovery?s STS-124 mission will mark NASA?s third shuttle flight of the year to deliver a new international room to the space station. The shuttle mission is the third of up to five planned for 2008, is the 10th flight since the Columbia accident and will leave 10 more to follow by 2010, when NASA retires its three-orbiter fleet to make way for its Orion capsule successor.
The remaining flights this year include NASA?s last flight to overhaul the Hubble Space Telescope, tentatively slated for an Oct. 8 launch, and a planned Nov. 10 flight to deliver supplies and equipment to the ISS.
?This flight of STS-124 is going to be something of a milestone in the space shuttle program,? Shannon said. ?We?re really hitting the halfway point here.?
Image Gallery: Shuttle Mission Diary: NASA's STS-123