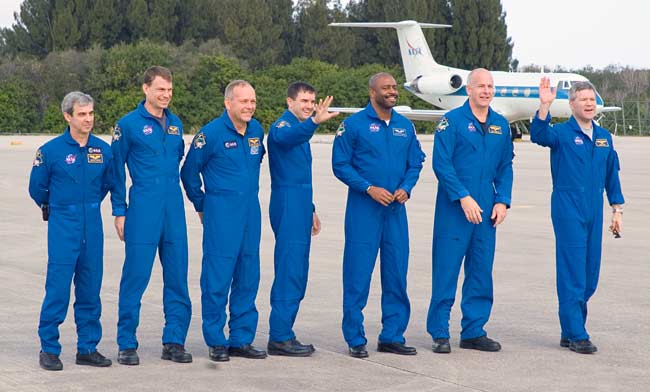 This story was updated at 11:39 a.m. ET.
CAPE CANAVERAL, Fla. ? Dreary Florida coast weather might push back a planned Thursday launch of the space shuttle Atlantis and its seven-astronaut crew, NASA mission managers said today.
NASA's 100-ton spaceship is scheduled to launch on Feb. 7 at 2:45 p.m. EST (1945 GMT). Kathy Winters, the shuttle weather officer here at Kennedy Space Center (KSC), said conditions through Wednesday will be good but rain showers and low-hanging clouds expected on Thursday are lowering launch day expectations.
"By launch day, unfortunately ? we do have a chance of having some bad weather," Winters said, who gave Atlantis a 40 percent chance of taking off on Thursday. She said any precipitation could damage the thermally shielded belly of Atlantis as the spaceship rockets to more than 17,500 mph (28,200 kph) to reach orbit.
"We don't want to trigger a lightning strike," Winters said of the expected low-hanging clouds. Should unfavorable weather move mission managers to scrub the first launch attempt, she said conditions will improve vastly for a try on Friday or Saturday.
Issues ironed out
Other than the fickle Florida coast weather, NASA test director Charlie Blackwell-Thompson said there are no outstanding issues with the orbiter for launch.
"Atlantis is ready to go fly and our team is prepared," Blackwell-Thompson said, but noted the agency will be keeping a close eye on a Freon-filled coolant hose within the payload bay of Atlantis. Technicians found the hose bent out of place last week and enacted a fix over the weekend using a V-shaped tool.
"It pretty much went to plan," she said of the fix on Sunday. "We didn't have any issues with it at all."
The kinked hose discovery came just short of two months after NASA found two faulty fuel tank sensors during pre-launch testing, ultimately prompting mission managers to delay Atlantis' launch to February.
The four engine cutoff (ECO) sensors, as they are known, ensure that cryogenically-cooled fuel in the 15-story external fuel tank of the space shuttle stops flowing before it runs out. Although the system is a backup for a primary on-board system, engineers made a fix by removing the devices, permanently soldering some troublesome connections together and reinstalling them.
Ready to fly
Commanded by Stephen Frick, a former Navy captain and veteran spaceflyer, the crew of STS-122 will bring a 10.3-ton European laboratory to the International Space Station (ISS). During their 11-day mission, the astronauts will also swap crew members at the ISS and set up experiments outside of the soon-to-be-attached lab.
Frick arrived today at KSC today at 10:29 p.m. EST (1529 GMT) along with the rest of the STS-122 crew: shuttle pilot Alan Poindexter, mission specialists Leland Melvin, Rex Walheim and Stanley Love, and European astronauts Léopold Eyharts and Hans Schlegel.
"We're feeling very good about this opportunity," Frick told members of the press from the tarmac, just after he and his crew arrived from Johnson Space Center in Houston, Texas. "We'll keep looking at the weather, but we're very happy about the condition of Atlantis."
Frick explained that rather than being frustrated at a flight delayed by two months, he was glad the time was used to resolve the ECO sensor issues.
"The ECO sensor problem has been nagging us for a very long time. We really rely on them," Frick said. "We use virtually all of our gas just to get up to orbit just for a normal mission, like 99.5 percent, and we can't afford to let the engines run dry because they tend to come apart."
NASA is set to start the three-day countdown for Atlantis' launch at 5:00 p.m. EST (2200 GMT) this evening.
NASA will broadcast Atlantis' STS-122 mission live on NASA TV. Click here for SPACE.com's STS-122 mission coverage and NASA TV feed.
SPACE.com Video Interplayer: NASA's STS-122: Columbus Sets Sail for ISS

The Great Space Quiz: Space Shuttle Countdown

VIDEO: ISS Commander Peggy Whitson Takes Charge