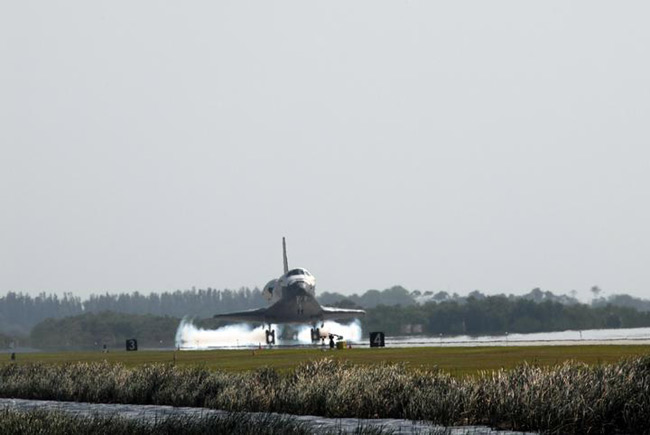 CAPE CANVERAL, Fla. - Seven astronauts safely returned to Earth today on board space shuttle Discovery, ending a space station construction mission that NASA called a tremendous success.
NASA administrator Mike Griffin said the STS-120 mission is like a link in a chain to build the International Space Station (ISS)--what he considers more complex than previous moon missions.
"Any link that breaks, and it's no longer a chain," Griffin said. "We're not going to do great things in space unless we can rely on the next crew to build upon what the last crew did."
During the STS-120 mission, astronauts mended a solar blanket that unexpectedly tore during its deployment. Griffin said the emergency repair effort was not the single most impressive task in human spaceflight, but regarded it as impressive nonetheless.
"There have been some extraordinary saves [in human spaceflight]," Griffin said. "It was an extraordinary mission and we've have many such."
'Picture perfect landing'
Discovery's tires screeched across a sun-bathed runway today, just after 1:01 p.m. EST (1801 GMT) here at Kennedy Space Center.
Commander Pamela Melroy piloted the massive spaceship over the heartland of America--a path not taken since Columbia broke up over eastern Texas in 2003.
A convoy of vehicles descended upon the 100-ton spacecraft shortly after a parachute slowed it to a stop. Technicians cleared the area of toxic propellant fumes and then helped the weak-kneed crew out of the ship.
Melroy, who made history as one two women to share her command in space, said from the runway that the orbiter performed perfectly.
"We could not have done this mission without Discovery being as clean and as beautiful as it was," Melroy said in front of the spaceship. "We are thrilled to be back home."
A time to learn
Melroy and her crew delivered a bus-sized room to the International Space Station (ISS), relocated a massive solar array truss and repaired a solar wing that tore during its unfurling on Oct. 30.
A second problem--a gritty solar-array-orienting set of gears--also arose during the astronauts' 15 days, two hours and 23 minutes in space. But Bill Gerstenmaier, NASA's associate administrator for space operations, said the issues give the agency a chance to prepare for future spaceflight endeavors.
"We're moving towards [the] moon and Mars," Gerstenmaier said of NASA's goals. "This is the time to learn, when you're hours away from home."
By delivering the Harmony module, the mission created an attachment point for the European Space Agency's Columbus laboratory module, which is set to launch Dec. 6 on board shuttle Atlantis.
But the work is not over.
The space station's Expedition 16 crew must relocate the room with a pressurized docking mechanism attached to it, then hook up all of its coolant, power and avionics lines. If any more problems arise, NASA officials said they will not hesitate to push back Atlantis' launch to January, if necessary.
Coated in a dust of carbon from atmospheric reentry, 24-year-old shuttle Discovery is now being towed back to a hangar, where engineers will start servicing it almost immediately for an April 2008 flight. It is slated to ferry up a massive Japanese experimental module and robotic arm during the mission.
NASA expects to send as many as 12 more shuttle flights to the space station by September 2010, when its shuttle fleet retires. Upgrading the Hubble Space Telescope is also on NASA's calendar for next year.
VIDEO: Discovery's STS-120 Astronaut Crew Speak Out

NEW IMAGES: Launch Day for Shuttle Discovery

SPACE.com VIDEO Interplayer: STS-120 Mission Brings 'Harmony' to ISS