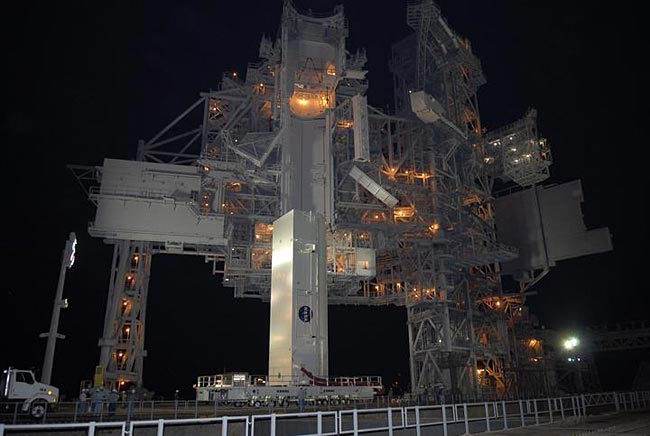 HOUSTON ? NASA?s shuttle Endeavour is headed for the launch pad as the space agency gears up for its second construction flight of the year to the International Space Station (ISS).
Endeavour will crawl out to Launch Pad 39A late Tuesday at 10:00 p.m. EDT (0200 July 11 GMT) after poor weather delayed an earlier rollout at NASA?s Kennedy Space Center in Cape Canaveral, Florida.
?We didn?t make this morning?s 4:00 a.m. cutoff, but we are all set to go tonight,? said deputy shuttle program manager Kim Doering, adding that the threat of lightning was to blame for the delay.
When the shuttle blasts off with fresh cargo and new ISS components on Aug. 7, its crew will continue space station assembly. The orbiter will also carry Barbara Morgan, NASA?s first educator astronaut, into space.
Since Endeavour last flew in 2002, NASA technicians have replaced 2,500 of its heat-resistant tiles, installed thicker windows and added extra protection to the orbiter?s thermal blankets?among other upgrades?following the inadvertent loosening of one during the STS-117 crew?s recent mission aboard Atlantis.
?We?re really excited to have Endeavour fly again,? Doering said in a Tuesday briefing.
The STS-118 shuttle mission is slated to last 11 days, but could be extended three extra days pending on the success of a new system to transfer power from the ISS to the orbiter.
Commanded by veteran spaceflyer Scott Kelly, the Endeavour?s crew includes seven astronauts, though Morgan is completing a unique 22-year journey that began as Christa McAuliffe?s backup for NASA?s former Teacher in Space Program.
?I?m excited about experiencing the whole spaceflight, seeing Earth from space for the very first time and experiencing weightlessness,? Morgan said in a NASA interview.
Morgan will function as a fully trained mission specialist but will also interact with students and answer their questions while orbiting 220 miles (354 km) above the Earth.
In addition to Morgan and Kelly, the STS-118 crew includes shuttle pilot Charles Hobaugh, mission specialists Rick Mastracchio, Tracy Caldwell, Alvin Drew and Dave Williams, who represents the Canadian Space Agency.
Mixed bag mission
Matt Abbott, NASA?s lead STS-118 shuttle flight director, said the crew?s objectives will be numerous during their mission.
?There?s a little bit of assembly, there?s some resupply, there?s some repairs and there are some high-visibility education and public affairs events,? Abbott said. ?It?s a little bit of everything.?
The astronauts will attach the S5 starboard truss, a piece essential to connecting a future solar array to the ISS, as well a spare parts platform. They?ll also replace a faulty control moment gyroscope (CMG) that helps NASA control the station?s position in orbit.
Doering noted the crew could squeeze in extra work in preparation for the next shuttle mission, pending on whether or not a new power-sharing system called the station-shuttle power transfer system (SSPTS) works. Added during Endeavour?s lengthy overhaul, the system will allow a shuttle crew to squeeze in extra flight time by borrowing some of the station?s solar power and conserving Endeavour?s fuel cells.
NASA officials explained that busy astronaut schedules should be expected over the next three years to complete ISS construction work prior to the three-shuttle fleet?s retirement in September 2010.
?We?re ready to fly 118, and a lot of people have said ?boy, that?s quick,?? Doering said. ?The team has demonstrated that they can turn these vehicles around quickly. This is about the pace we?ll be on?we?ll be flying roughly every other month.?
NASA?s STS-118: Teaching the Future Through ISS Assembly

SPACE.com Video

Interplayer

: Space Station Power Up with NASA's STS-117

Complete Shuttle Mission Coverage