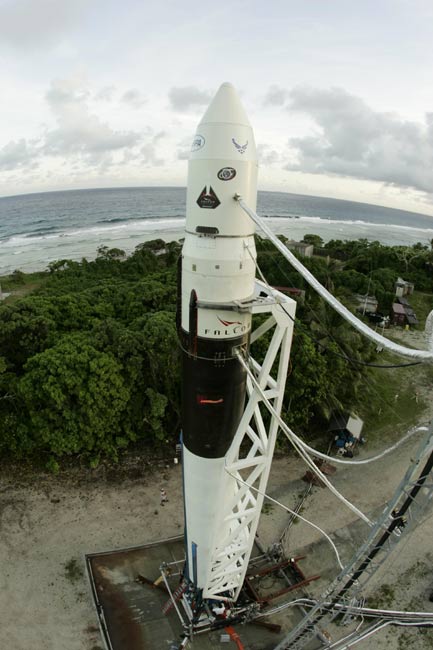 This story was updated at 5:31 p.m. EST.
WASHINGTON --- Space Exploration (SpaceX) Technologies' third attempt to launch the Falcon 1 rocket on its maiden flight has been pushed back roughly 24 hours to Friday, Feb. 10 to allow for more tests.
"We're preparing to stop and test just to verify that everything is running at 100 percent," said Elon Musk, founder of the El Selgundo, California-based SpaceX, in a telephone interview from the firm's Kwajalein Atoll launch site on the Pacific Ocean. "It's a reliability measure."
SpaceX spokeswoman Dianne Molina said Tuesday that Friday's launch window extends from 4:00 p.m. to 10:00 p.m. EST (2100-0300 Feb. 11 GMT).
"As an additional reliability measure, SpaceX will conduct a full test of vehicle systems, including initiating the flight countdown autosequence and briefly firing the main engine on the launch stand," SpaceX announced Monday in a statement posted on its website. "This test will take place Thursday, February 9 (California time)."
"Assuming we don't see anything critical, then we'll proceed for a Friday launch," Musk added.
SpaceX has made two previous attempts to launch the Falcon 1 from the company's private launch facility on Omelek Island in the Kwajalein Atoll region of the equatorial Marshall Islands. A Dec. 19 attempt, the most recent, had to be called off when the Falcon 1's first stage sustained structural damage while being partially drained of fuel during a countdown hold due to high winds.
SpaceX has since replaced the damaged first stage with a new one sent from El Segundo.
SPACE.com's Tariq Malik contributed to this report from New York City.