The online Slooh Community Observatory will host a live webcast tonight (May 5) at 8 p.m. EDT (0000 GMT) to highlight and discuss the peak of the annual Eta Aquarid meteor shower. Watch live here, courtesy of Slooh. You can go to Slooh.com to join and watch this live broadcast, snap and share your own photos during the event, chat with audience members and interact with the hosts, and personally control Slooh's telescopes. The webcast will also appear below, courtesy of Slooh. Learn more: Eta Aquarids: Meteor Shower From Halley's Comet
From Slooh:
"On Thursday, May 5th, at 5:00 PM PDT/8:00 PM EDT/00:00UTC, join Slooh to celebrate Cinco de Mayo with the spectacular Eta Aquarid Meteor Shower, live from Slooh's global observatory network. The live feeds will be anchored by a new low light meteor camera at Slooh's flagship observatory at the Institute of Astrophysics of the Canary Islands. Live meteor views will also be provided from Slooh's headquarters in Washington Depot, CT, as well as partners at the UK Meteor Observation Network and the Daniel Thompson Astronomical Observatory in Thunder Bay, Canada. Extended coverage of the shower will continue into the following morning, starting at 9 AM EDT with a live feed provided by Slooh's partner Weathernews in Japan, who will broadcast live from New Zealand.

"During the live broadcast, Slooh Host, Paul Cox, along with Slooh Astronomers, Eric Edelman and Bob Berman, will provide viewers with a vast array of perspectives on meteor showers. Audience members will learn how comets cause meteor showers, learn the fascinating history of the famous Halley's Comet and hear all about how humans throughout history saw comets as harbingers of doom and destruction. Viewers will also be treated to a tutorial on how to snap some amazing meteor photographs from their own backyards, and will find out how to hear meteors even when you can't see them.

"'I'm excited to be reporting live from Slooh's flagship observatory in the Canary Islands, which is ideally placed for the Eta Aquarids meteor shower,'" says Cox. 'With no moonlight to spoil the view, and dark skies protected by the Canary Islands Light Law, this should be one of the best Eta Aquarids showers we've seen. I'll be under the stars in Slooh's new dome housing three new telescopes that members can use, and we'll have our new specialist MeteorCam in operation all night.'

"Viewers can ask questions during the show by sending them to @Slooh on Twitter, or by joining us in our live chat on Slooh.com."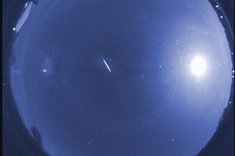 0 of 10 questions complete
Follow us
@Spacedotcom
,
Facebook
and
Google+
.