A former Space Camp counselor and an "analog astronaut" whose father tracked Apollo science experiments deployed on the moon have won seats on board the first all-civilian spaceflight, joining a billionaire and a physician assistant who survived cancer as a child.
Chris Sembroski and Sian Proctor were revealed on Tuesday (March 30) as the winners of a sweepstakes and a competition, respectively, that were held to fill the final two seats on the Inspiration4 mission. The two will launch aboard a SpaceX Dragon capsule and orbit high above Earth together with Jared Isaacman, who is commanding and underwriting the cost of the mission, and Hayley Arceneaux, who was selected as an ambassador for St. Jude's Children's Research Hospital.
Slated to lift off as soon as mid-September, the Inspiration4 crew members will circle the planet for three days at an altitude about 80 miles (130 km) higher than the International Space Station. In the process, the four will set several records, both as individuals and together, including flying on the first space mission without a professional astronaut on board.
Related: Talking Inspiration4 with Jared Isaacman — 1st all-private orbital mission
As first announced in February, Isaacman organized the Inspiration4 mission to not just fulfill his dream of flying in space, but "to send a message that inspiration can create a world of infinite possibilities up in the stars, but most importantly here on Earth."
The sweepstakes won by Sembroski had the goal of raising up to $200 million for St. Jude's efforts to save pediatric cancer patients worldwide. The contest brought in more than 72,000 donations, totaling $13 million, in addition to the $100 million pledged by Isaacman.
Generosity and Prosperity
Sembroski was among those who donated to St. Jude's, but it was a friend whose name was picked and who passed the winning ticket onto him for the "Generosity" seat on the Inspiration4 mission.
"Although I've been fortunate to have spent years in the aerospace industry, I never imagined having the opportunity to reach the stars, especially through something as simple as supporting St. Jude's" Sembroski said in a statement released on Tuesday by Inspiration4. "I am honored to occupy the Generosity seat and look forward to using this platform to encourage everyone to be generous to others in whatever ways they are able."
A data engineer for Lockheed Martin, Sembroski, 41, has had a lifelong interest in astronomy and space exploration. He took part in grassroots space advocacy marches before helping to maintain Minuteman III missiles while serving in the U.S. Air Force and earning his bachelor's degree in professional aeronautics from Embry-Riddle Aeronautical University in Florida.
As a former Space Camp counselor who led students through simulated space missions, Sembroski will be the 10th alum of the Huntsville, Alabama program to fly into space for real.
Proctor was chosen as the winner of the Shift4Shop competition, which asked entrants to set up an e-commerce site using the online payment processing service founded by Isaacman and record a video sharing their "inspirational entrepreneurial story" and why their business "should be elevated to the stars." Proctor's "Space2Inspire" shop offered postcards and prints of her AfronautSpace art, which she uses to encourage conversations about women of color in the space industry.
A geoscientist and science communication specialist, Proctor, 51, has participated in four analog space missions, including a NASA-funded four-month "Mars mission" at the Hawai'i Space Exploration Analog and Simulation (HI-SEAS) Habitat. She has a bachelor's degree in environmental science, a master's degree in geology and a doctorate in curriculum and instruction for science education.
The author of the "Meals for Mars Cookbook," Proctor came close to launching to space with NASA as a finalist in the agency's 2009 astronaut candidate selection.
As the "Prosperity" crew member aboard Inspiration4, Proctor will become the first person to be born in Guam to fly in space. Her late father, Edward Proctor, was assigned to the Guam tracking station to support the first seven Apollo astronaut missions, charged with overseeing the data being received from the Apollo Lunar Surface Experiments Package (ALSEP).
"I have always believed that I was preparing for something special, and that moment has arrived with Inspiration4." said Proctor. "This opportunity is proof that hard work and perseverance can pay off in unimaginable ways."
Hope and Leadership
With their selection, Sembroski and Proctor complete the Inspiration4 crew, which also includes seats for "Hope" and "Leadership."
Furthering the mission's goal of supporting St. Jude's, Arceneaux is flying as an ambassador for the hospital. Diagnosed at age 10 with osteosarcoma, a type of bone cancer, her family turned to St. Jude's for her treatment, including the insertion of metal rods to replace bones in her left leg. Now doing well, Arceneaux works at St. Jude's, helping children with leukemia and lymphoma.
"This seat represents the hope that St. Jude gave me — and continues to give families from around the world," said Arceneaux. "It's incredible to be a part of this mission that is not only raising crucial funds for the lifesaving work of St. Jude but also introducing new supporters to the mission and showing cancer survivors that anything is possible."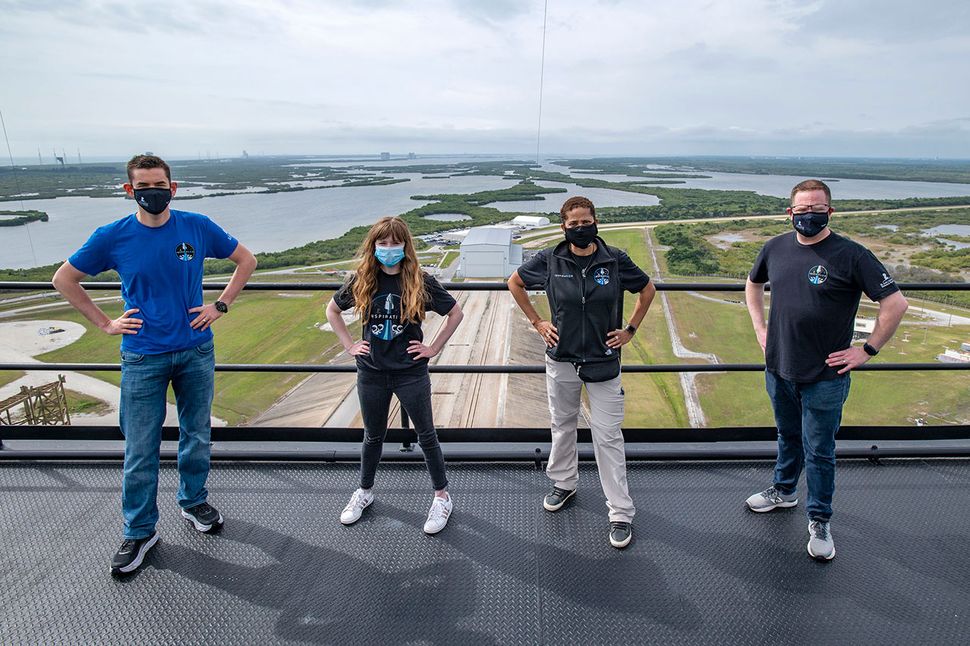 In addition to being the first person with a prosthesis to fly in space, Arceneaux is set to become the youngest American to enter orbit at age 29. (The youngest person worldwide was also only the second person to fly into space: cosmonaut Gherman Titov at age 25.)
As the mission's benefactor, Jared Issacman, 38, is the Inspiration4 commander, filling the mission's "Leadership" role.
An accomplished pilot, Isaacman is rated to fly commercial and military aircraft and holds several world records including two Speed-Around-The-World flights in 2008 and 2009. He has flown in over 100 airshows as part of the Black Diamond Jet Team and co-founded what would become the world's largest private air force, Draken International, to train pilots for the U.S. Armed Forces.
"While a historic journey awaits us in space, I hope this mission reinforces how far inspiration can take us," Isaacman said.
Follow collectSPACE.com on Facebook and on Twitter at @collectSPACE. Copyright 2021 collectSPACE.com. All rights reserved.