NASA's OSIRIS-REx asteroid sample return to Earth: Live updates
OSIRIS-REx's asteroid-sample return capsule will land in Utah on Sept. 23 at around 10 a.m. EDT (1400 GMT). Here's the latest.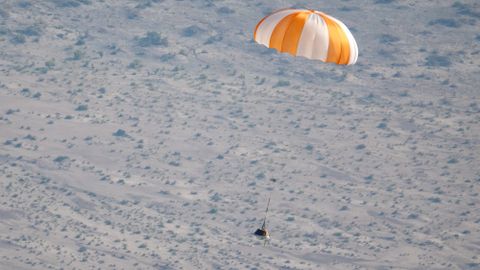 (Image: © NASA)
On Sept. 24, 2023, NASA's OSIRIS-REx mission will make history by returning samples of the asteroid Bennu to Earth after seven years in deep space.
Launched in 2016, the OSIRIS-REx spacecraft reached asteroid Bennu in October 2020 and collected samples from the near-Earth asteroid's surface. On Sept. 24, it will return those samples in a special capsule and parachute, with landing set for 10 a.m. EDT (1400 GMT) at Department of Defense's Utah Test and Training Range near Dugway, Utah. See the latest on the asteroid sample-return's approach, landing and sample processing here.
Get the Space.com Newsletter
Breaking space news, the latest updates on rocket launches, skywatching events and more!
Thank you for signing up to Space. You will receive a verification email shortly.
There was a problem. Please refresh the page and try again.