NASA's Mars Perseverance rover is on course to land — on toy store shelves.
The six-wheeled robotic explorer, which remains on track to touch down on Mars on Feb. 18, has been reproduced by Mattel as a Hot Wheels toy. The release of the 1:64th-scale vehicle has been timed to precede the real rover's landing on the red planet so fans of both the mission and the miniatures can reenact the event as it happens.
"We want the car to be out there so kids have it in their hands when the actual rover lands in February," said Manson Cheung, staff sculptor and lead 3D modeler for Mattel Hot Wheels. "We want kids to be like, 'Oh, I have the rover in my hand and I can see it on Mars,' so there is a connection for the kids, not only with Hot Wheels, but space as well."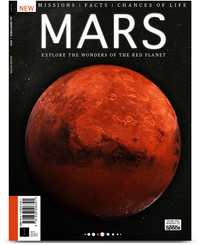 Book of Mars: $22.99 at Magazines Direct
Within 148 pages, explore the mysteries of Mars. With the latest generation of rovers, landers and orbiters heading to the Red Planet, we're discovering even more of this world's secrets than ever before. Find out about its landscape and formation, discover the truth about water on Mars and the search for life, and explore the possibility that the fourth rock from the sun may one day be our next home.
Launched from Earth on July 30, 2020, Perseverance is nearing its destination and beginning NASA's first mission dedicated to searching for and caching signs of life for a future return to Earth. Should the rover survive its plunge into Mars' atmosphere and a seven-minute descent to the surface that requires an aeroshell, parachute, retro-rockets and a "sky crane" to all autonomously work as designed, then the Perseverance rover will explore Jezero Crater on the western edge of a giant impact basin, just north of the planet's equator.
"NASA's Perseverance rover, just in its name, goes hand-in-hand with Hot Wheels' spirt of 'Challenge Accepted," Scott Shaffstall, senior public relations manager for vehicles, action figures and licenses at Mattel, said. "It's very much tied that vision of try, fail, repeat until it is done right."
"So in our mind, this mission is already a success as it is moving the needle and getting us one step closer to Mars," said Shaffstall.
In photos: NASA's Mars Perseverance rover mission to the Red Planet
Repackaged rover
Like the real Perseverance, which was based on the design of NASA's previous and still active rover, Curiosity, the Hot Wheels Perseverance reuses the mold for Mattel's 2012 toy of the earlier-landed, car-sized explorer.
But the two rovers are not identical. Perseverance is equipped with a different set of science instruments, including a redesigned robotic arm, and has more robust wheels after the lessons learned with Curiosity's mobility system.
"We were in talks with JPL [the Jet Propulsion Laboratory in Pasadena, California] and NASA and we worked out that the differences at our scale, at 1:64th or about 3 inches [8 cm], would be very close in appearance. So we were able to reuse the Curiosity mold and brand it as Perseverance," Cheung told collectSPACE.com.
Identical to the Hot Wheels Curiosity, the Perseverance version of the toy includes NASA's insignia on its undercarriage and features a rotating camera mast. Mattel also incorporated the reddish-brown Mars "soiled" wheels that it first introduced on a reissue of the Curiosity rover toy in 2014.
"So with Curiosity/Perseverance, it is sort of following the same model as what we do generally in Hot Wheels, reusing the same sculpt that is very similar and just rebranding it as something else," said Cheung.
Persistent partnership
The Mars Perseverance Rover, which retails for $1.09, is part of the Hot Wheels "Space" line for 2021, an assortment of five different vehicles each with a space or cosmic theme.
"The space mini-collection was brought back in 2021 due to the increased interest from kids and the general public in regards to space exploration. The rover was an obvious fit and we knew that it would be touching down on Mars," said Shaffstall.
The Perseverance toy continues a long history of Hot Wheels celebrating NASA's missions and working with the engineers at JPL in Pasadena, California.
In addition to the Curiosity rover, Hot Wheels sets have also been modeled after NASA's Mars Pathfinder mission in 1997, John Glenn's return to space in 1999 and the Galileo mission to Jupiter that same year. NASA and Hot Wheels began collaborating in the 1980s with the development and release of the Space Shuttle Ground Support Hiway Hauler.
The partnership has led to Mattel designers visiting and touring JPL to get a look at real space vehicles and to deliver their Hot Wheels toys of the same spacecraft to the missions' team members.
"I don't think we are going to be there on landing day because it is all going to be hectic, but we definitely will get the [Hot Wheels Perseverance Rover] samples to them when we can," Shaffstall said.
Follow collectSPACE.com on Facebook and on Twitter at @collectSPACE. Copyright 2021 collectSPACE.com. All rights reserved.