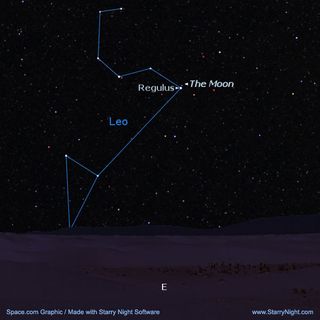 If you live in the southern or western parts of the United States, you'll have an opportunity on Saturday morning, Nov. 3, to see a fat waningcrescent moon gradually drift toward and ultimately hide the 1st-magnitudestar, Regulus, the brightest star of the constellation Leo, the Lion.
This event is called an occultation, a word that is derivedfrom the Latin occultāre which means literally "to conceal." Andif you are fortunate enough to live in the zone of visibility for this event(see below), that's exactly what you will see on Saturday morning; the moon,appearing to temporarily conceal Regulus from your view.
Because the moon iswaning, its bright crescent faces forward as it advances eastward against the starrybackground. Regulus will thus disappear on the moon's bright limb and even abright blue-white diamond such as this might be briefly overwhelmed by theglare of the lunar surface some seconds before it vanishes. How well you seethe moment of the star's disappearance will depend a lot on the size andquality of your telescope and the steadiness of the atmosphere.
On the other hand, the reappearance of Regulus will happenon the dimly earthlit dark limb as the moon leaves the star behind. Here the scenewill be much more dramatic. Those blessed with a dark sky background will seeRegulus suddenly and dramatically "pop" into view, as if a switchwere thrown; a stunning demonstration of the moon's orbital motion and thestar's tiny angular size. Binoculars ormaybe even just your eyes will be all you'll need (though you might need toblock the glare of the moon's bright limb behind a nearby wall or tree limb).
Zone of visibility
If you live anywhere to the south of a line that curvesroughly from near Gold Beach, Oregon, across the U.S. to near Savannah, Georgia, you'll see the moon pass in front of Regulus. If you live north of this line, you'll seethe moon slowly glide below Regulus, resulting in a tantalizing near miss! Andif your neighborhood happens to lie fortuitously within about a mile or two oneither side of the line, you might have an unusual opportunity to see thegrazing occultation of a 1st-magnitude star. As Regulus appears to move tangentto the moon, it might just disappear and reappear a few times along the ruggedterrain of the moon's bright limb, just off to the left of its upper cusp.
Dark or bright sky?
Another important consideration is whether the occultationoccurs against a dark sky, a twilight sky or a daytime sky?
Over California and the Desert Southwest, the entire eventwill occur in a dark predawn sky.
Across Texas, Oklahoma and most of Kansas, Regulus willdisappear in a dark sky, but it will reappear during early-to-mid morningtwilight.
Over the Deep South, Piedmont, Southeast Coast and Florida, morning twilight will be well advanced and the sky quite bright when Regulusdisappears; in fact the sun will have just risen along much of Florida's east coast. And the star's reappearance will take place after sunrise for much ofthis region.
Full schedule
A detailed set of predictions for over 100 selected cities, including in Mexico and the Caribbean are available on the website of the International Occultation Timing Association (IOTA) here.
For more specific information regarding the location of the graze path relative to your location, you can see an interactive map of the path here.
An expedition to observe this event from Utah is being led by Patrick Wiggins. He invites those who might be interested to contact him at paw@wirelessbeehive.com. Check out his website at: http://utahastro.info.
Online Sky Maps and More
Astrophotography 101
Joe Rao serves as an instructor and guest lecturer at New York's Hayden Planetarium. He writes about astronomy for The New York Times and otherpublications, and he is also an on-camera meteorologist for News 12 Westchester, New York.
Get the Space.com Newsletter
Breaking space news, the latest updates on rocket launches, skywatching events and more!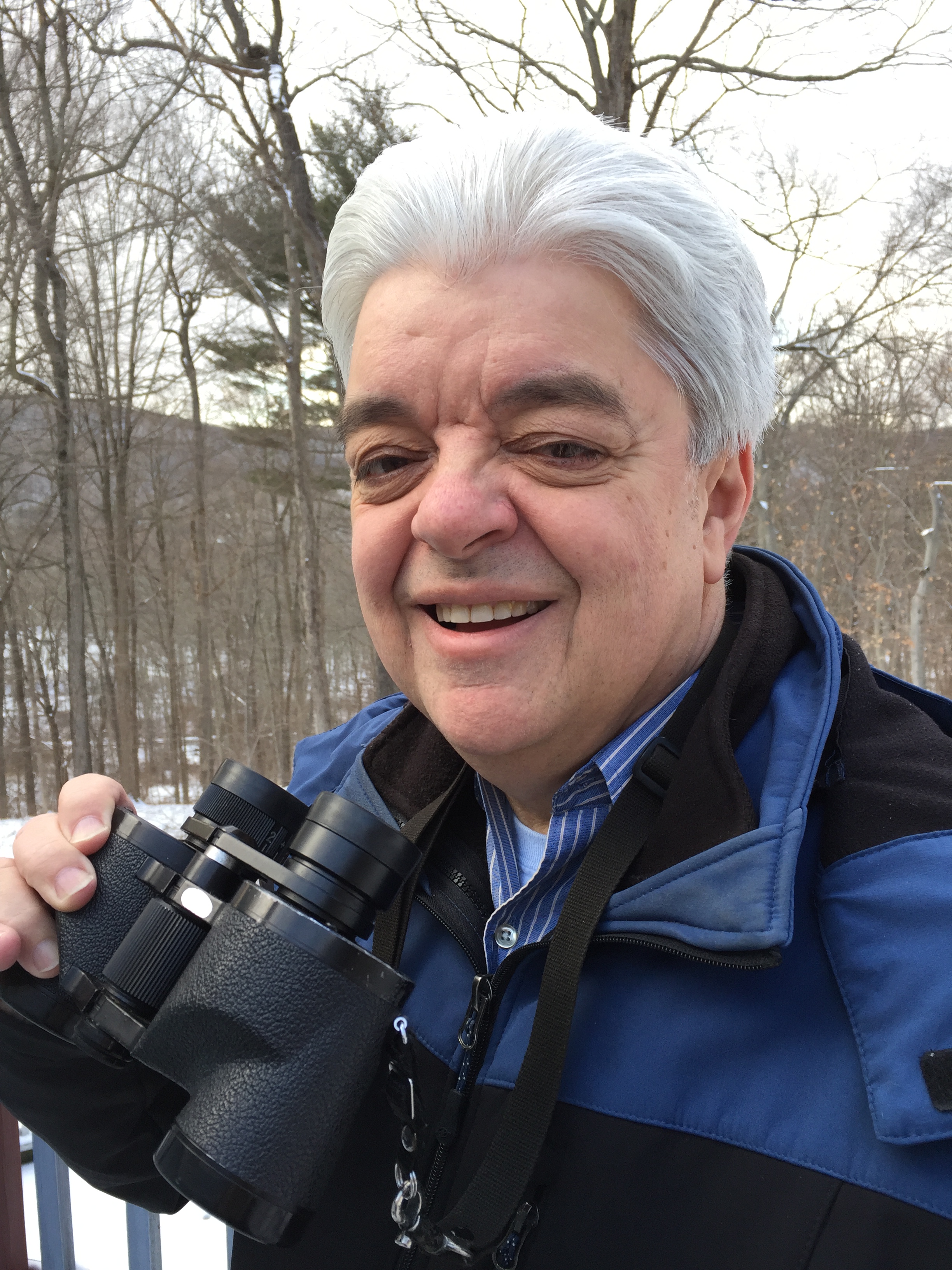 Joe Rao is Space.com's skywatching columnist, as well as a veteran meteorologist and eclipse chaser who also serves as an instructor and guest lecturer at New York's Hayden Planetarium. He writes about astronomy for Natural History magazine, the Farmers' Almanac and other publications. Joe is an 8-time Emmy-nominated meteorologist who served the Putnam Valley region of New York for over 21 years. You can find him on Twitter and YouTube tracking lunar and solar eclipses, meteor showers and more. To find out Joe's latest project, visit him on Twitter.