Nine Teams Sign Up To Compete for Lunar Lander Prize
After justmissing its chance to win the Northrop Grumman Lunar Lander Challenge at the2006 Wirefly X Prize Cup, Armadillo Aerospace Corp. founder John Carmack isconfident of victory this year despite the fact that as many as eight othercompetitors are racing to get vehicles ready to challenge Armadillo.
?No othercompetitor has gotten a vehicle off the ground, while we have made dozens offlights over 90 seconds, and three flights over 180 seconds. At this point, Ithink it is unlikely that anyone else will qualify this year,? Carmack said.
Whileconfident of a win, Carmack told Space News in an Aug. 22 telephoneinterview that his Mesquite, Texas-based team did suffer a setback the weekendof Aug. 18-19.
?We crashedone of our backup vehicles while testing a new system,? Carmack said. ?But westill have two complete vehicles on hand, and a third one coming together inthe shop ? so our prospects to win both Level 1 and 2 are quite good.?
TheNorthrop Grumman Lunar Lander Challenge is divided into two levels. Level 1requires a rocket to take off from a designated launch area, fly to an altitudeof 50 meters, then hover for 90 seconds while landing precisely on a pad 100meters away. The flight must then be repeated in reverse, and both flights?alongwith all of the necessary preparation for each ? must take place within atwo-and-a-half-hour period.
Level 2 ismore difficult requiring a team?s rocket to hover for twice as long beforelanding precisely on a simulated lunar surface. The hover times are calculatedso that the Level 2 mission closely simulates a true lunar landing scenario.
At the 2006Wirefly X Prize expo, Armadillo Aerospace successfully flew their Pixelvertical-takeoff and vertical-landing rocket. The craft ran well. It powereditself to the appropriate altitude, hovered, and then flew to a touchdown.However, Pixel ran into problems while attempting its reverse flight.Therefore, no prize money was claimed in 2006.
Accordingto the X Prize Foundation?s Web site, nine teams are now registered to takepart in the lunar lander challenge. Eight of those are listed on the Web site;a ninth officially registered entrant asked to remain anonymous for the timebeing, according to the Web site.
Theidentified teams are: Acuity Technologies, Menlo Park, Calif.; ArmadilloAerospace, Mesquite, Texas; Bon-Nova of Tarzana and Napa, Calif.; Masten SpaceSystems, Mojave, Calif.; Micro-Space, Denver; Paragon Labs, Denver; SpeedUp,Laramie, Wyo.; Unreasonable Rocket, Solona Beach, Calif. NASA, which signed aSpace Act Agreement with the X Prize Foundation before the 2006 competitionwill once again fund the prizes through the space agency?s CentennialChallenges program?effort that promotes technical innovation through prizecompetitions.
WilliamPomerantz, director of Space Projects for the X Prize Foundation in Washington, said in an Aug. 17 e-mail that four of the nine teams registered for the 2007competition were involved last year.
Pomerantzsaid that with $2 million in prizes on the line, one might expect the teams tobe cutthroat competitors, willing to do anything to get ahead of each other.?But with this challenge, we have seen the opposite. There?s a friendly rivalrybetween our teams, but they?ve also been extremely open with each other,sharing the details of their successes?and their failures?and pushing eachother forward,? Pomerantz said. ?These teams have by in large shed the stigmaof ?not invented here? and are instead trying to help each other pursue acommon goal.?
Ian Moore,project manager for the Masten Space Systems Lunar Lander entry, said hiscompany has been working hard to get its vehicle ready to compete. ?We are onschedule to fly at X Prize Cup ? providing we don?t step on any land mines.? hesaid.
The WireflyX Prize Cup ?07 Holloman Air and Space Expo is a rocket festival created tosalute forward-looking technology, space exploration and education. It will beheld Oct. 27-28, at Holloman Air Force Base in Alamogordo, N.M., a change fromthe first two years when it was held in Las Cruces, N.M.
The base?smajor role in the program for the first time this year reflects the service?sgrowing interest in the private development of new space technology andcommercial partnerships with the private sector, said Lt. Col. Angelo Eiland,wing project officer for the X Prize Cup and 49th Fighter Wing deputy directorof staff at Holloman.
?We?refinding that the private sector can quite often do things, especiallyspace-related, a lot cheaper than we can in the government. I think that?s justgoing to continue to reap huge benefits on both sides,? Eiland told Space Newsin an Aug. 10 telephone interview. Holloman?s sponsorship of the cup also willbe part of the base?s celebration of the 60th anniversary of the U.S. Air Forceand the 50th anniversary of spaceflight this year, ?The opportunity to partnerwith X Prize helps round out the picture of telling the air and spacerevolutions that have taken place over the last 50 and 60 years,? said Eilandsaid, noting that the base expect as many as 100,000 people to attend the event.
The Future of Flight
VIDEO: Post Mortem on Pixel
VIDEO: Carmack vs. The Moon
VIDEO: SPACE.com's Wirefly X Prize Cup Video Archive
Get the Space.com Newsletter
Breaking space news, the latest updates on rocket launches, skywatching events and more!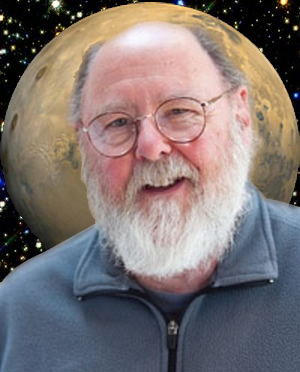 Leonard David is an award-winning space journalist who has been reporting on space activities for more than 50 years. Currently writing as Space.com's Space Insider Columnist among his other projects, Leonard has authored numerous books on space exploration, Mars missions and more, with his latest being "Moon Rush: The New Space Race" published in 2019 by National Geographic. He also wrote "Mars: Our Future on the Red Planet" released in 2016 by National Geographic. Leonard has served as a correspondent for SpaceNews, Scientific American and Aerospace America for the AIAA. He was received many awards, including the first Ordway Award for Sustained Excellence in Spaceflight History in 2015 at the AAS Wernher von Braun Memorial Symposium. You can find out Leonard's latest project at his website and on Twitter.