NASA Studies Extending Boeing Commercial Crew Test Flight to Support ISS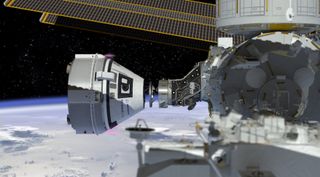 (Image credit: NASA/Boeing)
WASHINGTON — A commercial crew contract modification moves NASA one step closer to using a test flight as an operational mission to maintain a presence on the International Space Station.
NASA announced April 5 that it had updated its Commercial Crew Transportation Capability (CCtCap) contract with Boeing to study potential changes to the second of two test flights of the company's CST-100 Starliner vehicle, currently intended to carry two people on a short-duration mission to the station.
Those changes, NASA said, would involve adding a third crewmember to flight and extending its mission from two weeks to as long as six months, the typical length of an astronaut's stay on the ISS. The changes would involve training and mission support for that third crewmember and the potential to fly cargo on both that mission and an earlier uncrewed test flight. [Boeing's CST-100 Space Capsule in Pictures]
NASA said in the statement that adding the third astronaut, and extending the mission's stay, could "could allow for additional microgravity research, maintenance, and other activities" while at the station. The agency acknowledged, though, that it could also be used to maintain a U.S. presence on the station should the development of both Starliner and SpaceX's Crew Dragon vehicles experience more delays.
"This contract modification provides NASA with additional schedule margin if needed," said Bill Gerstenmaier, NASA associate administrator for human exploration and operations, in the statement.
Earlier this year Gerstenmaier had suggested that commercial crew test flights could be used as crew rotation missions for the ISS if necessary. "Those test flights might be able to be extended a little bit, fly a little bit longer, maybe fly a little bit of crew, and they could be kind of an operational mission," he said during a Feb. 8 speech at a Federal Aviation Administration commercial space transportation conference here. "That's something we're beginning to discuss with both SpaceX and with Boeing."
Gerstenmaier said then that the changes envisioned included adding a third crewmember and extending the test flights to bridge any schedule gaps until at least one commercial crew vehicle is certified by NASA for regular flights to the station. He said then that he hoped to reach a decision this summer on whether this approach would work.
NASA has limited options for accessing the ISS after next year. NASA acquired three Soyuz seats from Boeing for flights to the ISS in the spring of 2019, seats that Boeing obtained from Russian company RSC Energia as part of a settlement of a lawsuit between the two companies regarding Sea Launch.
Astronauts flying on those seats would return to Earth in the fall of 2019, at which point NASA would lose access to the ISS unless at least one commercial crew vehicle is online. Gerstenmaier has previously said that buying additional Soyuz seats is not an option given the long lead times required for Soyuz production.
In the statement, NASA said that it was approached by Boeing last year about the contract change. SpaceX's CCtCap contract is not affected by the change. "If SpaceX submits a proposal for their crewed flight demonstration, the agency will review it through the normal procurement process," NASA spokesperson Cheryl Warner said April 6.
Gerstenmaier, in the statement, noted that NASA has about six months of schedule margin in current commercial crew development schedules. However, those schedules have slipped considerably in the past, raising concerns that additional delays could jeopardize continued U.S. presence on the ISS.
NASA's last update on commercial crew test flight schedules, released in January, listed Boeing conducting an uncrewed test flight in August 2018 and a crewed test flight in November. SpaceX's schedule includes an uncrewed test flight in August and a crewed test flight in December. If companies remained on those schedules and had successful test flights, they would be in line to be certified by NASA for operational missions in early 2019.
Those schedules remain valid, said Kathy Lueders, manager of NASA's commercial crew program, during a March 26 presentation at a meeting of the NASA Advisory Council's human exploration and operations committee. She added, though, that those dates are "constantly under review."
"We're continuing to make considerable progress," she said as she wrapped up reports on the status of Boeing and SpaceX. "I can't emphasize enough how this next year, year and a half, is going to be critical for us."
At that meeting, committee chairman and former astronaut Ken Bowersox asked if the current schedules were "aggressive," and Lueders agreed. "In a perfect schedule, it all could come together," she said, but added "there are things that can happen along the way."
"We really want to give them the time to do this right," she said. "Yes, we want them to do it as fast as possible, but we're not willing to sacrifice the safety of the crew."
This story was provided by SpaceNews, dedicated to covering all aspects of the space industry.
Get the Space.com Newsletter
Breaking space news, the latest updates on rocket launches, skywatching events and more!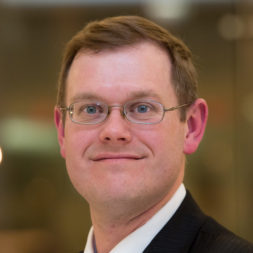 SpaceNews Senior Staff Writer
Jeff Foust is a Senior Staff Writer at SpaceNews, a space industry news magazine and website, where he writes about space policy, commercial spaceflight and other aerospace industry topics. Jeff has a Ph.D. in planetary sciences from the Massachusetts Institute of Technology and earned a bachelor's degree in geophysics and planetary science from the California Institute of Technology. You can see Jeff's latest projects by following him on Twitter.