NASA Approves Use of Previously-Flown Booster on Next Dragon Mission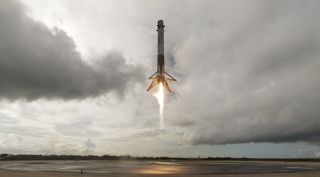 (Image credit: SpaceX)
WASHINGTON — NASA officials said Nov. 29 that they have given their approval, as expected, to SpaceX's use of a previously-flown Falcon 9 first stage on the next Dragon cargo mission to the International Space Station.
Speaking at a meeting of the human exploration and operations committee of the NASA Advisory Council at the Kennedy Space Center, Sam Scimemi, director of the International Space Station at NASA Headquarters, said the Dec. 8 launch of a cargo resupply mission known as SpX-13 will use the booster from the June launch of another Dragon mission, SpX-11.
"This first stage we've looked at very carefully," he said. "We know exactly what happened to this particular booster."
The use of a previously-flown booster was anticipated. At a press conference Nov. 10 before the launch of a Cygnus cargo spacecraft to the station, ISS deputy program manager Dan Hartman said that final assessments were underway on flying a reused booster on that mission. "I'd say the chances are that we'll be flying a reuse on SpX-13" should the final reviews be positive, he said then.
Flying a previously-flown booster raised questions from some committee members about the oversight NASA has on their use. While NASA is, strictly speaking, buy a cargo delivery service rather than a launch, agency officials said they did reviews to assure themselves a previously-flown booster has the same performance and safety as a new one.
"We went through a detailed review, both through our Launch Services Program for the launch vehicle assessment and our ISS program, and we assured ourselves that the processes that they follow to use a booster again are appropriate to the application," said Bill Gerstenmaier, NASA associate administrator for human exploration and operations.
"We get the equivalent reliability of the reused booster that we would expect from a new booster," he said.
Gerstenmaier said that NASA's approval of a reused booster is only for this mission. "We accepted it only on this particular case. We did not accept it in a generic sense," he said. "We will look at each one on a case-by-case basis, looking at the history of the booster, looking at their reuse review process that SpaceX does, and make sure the hardware we're getting meets our intent of what we need."
This mission will mark the fourth Falcon 9 with a previously-flown booster. The previous three all carried commercial communications satellites, most recently with the October launch of the SES-11/EchoStar-105 satellite. SpaceX will use another previously-flown booster later in the month with the launch of the fourth set of 10 Iridium Next satellites, using a booster that first flew on another Iridium mission earlier in the year.
This story was provided by SpaceNews, dedicated to covering all aspects of the space industry.
Get the Space.com Newsletter
Breaking space news, the latest updates on rocket launches, skywatching events and more!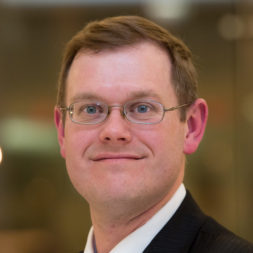 SpaceNews Senior Staff Writer
Jeff Foust is a Senior Staff Writer at SpaceNews, a space industry news magazine and website, where he writes about space policy, commercial spaceflight and other aerospace industry topics. Jeff has a Ph.D. in planetary sciences from the Massachusetts Institute of Technology and earned a bachelor's degree in geophysics and planetary science from the California Institute of Technology. You can see Jeff's latest projects by following him on Twitter.