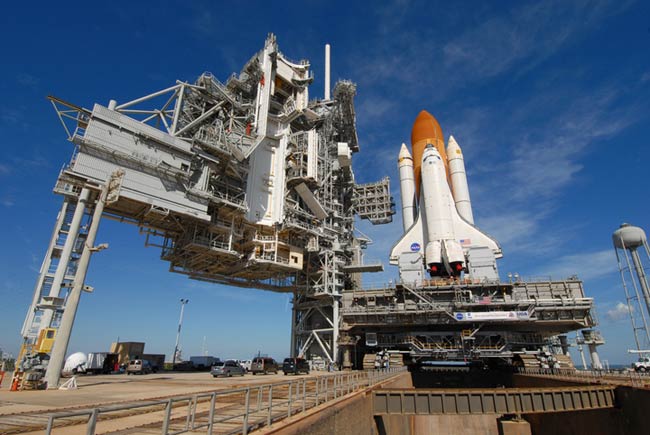 This story was updated at 3:50 p.m. EST.
After weeks of delays due to fuel valve concerns, NASA?s space shuttle Discovery is officially set to blast off on March 11, the space agency announced Friday.
Mission managers set the Wednesday launch date during a Flight Readiness Review at NASA?s Kennedy Space Center in Florida, where they decided the evidence was firm enough that suspect fuel valves should pose no problem for Discovery's planned flight.
"They felt they had all the data and information they needed to support launching on March 11," NASA spokesman Allard Beutel told SPACE.com. "All the extra testing gave engineers confidence enough to schedule a launch date."
Discovery is now officially poised to lift off for its STS-119 mission from a seaside launch pad at the Kennedy Space Center in Cape Canaveral, Fla., on Wednesday at 9:20 p.m. EDT (0120 March 12 GMT). Commander Lee Archambault will lead a crew of seven astronauts on a two-week construction flight to the International Space Station to deliver a new set of solar array wings.
Fuel valve delays
Originally slated to launch Feb. 12, Discovery?s mission has been repeatedly delayed over concerns that the shuttle?s three fuel control valves might be faulty. The valves function like pop-up lawn sprinklers to route gaseous hydrogen through plumbing lines that lead to a hydrogen reservoir in the shuttle?s attached external fuel tank. They ensure the spacecraft?s reservoir of liquid hydrogen propellant is properly pressurized during launch.
The concerns arose after a valve on NASA?s shuttle Endeavour cracked and chipped during its November 2008 launch. The damage did not affect Endeavour?s launch into orbit, but NASA wanted to be sure a similar problem would not endanger Discovery or its astronaut crew.
"We completed a lot of testing and a lot of analysis to understand the risks," said Bill Gerstenmaier, NASA?s associate administrator for space operations, in a briefing today. "We're fully ready to go fly. It's time to step back from the issue of the day and think about all the other things we need for flight readiness."
NASA ordered a series of tests on the valves, and developed a new way to examine them to search for any signs of cracks. The new method, which involves placing a valve in a magnetic field and measuring the strength of the field around it, revealed cracks much tinier than the width of a hair in some of the valves. After screening the three valves on Discovery, the mission management team decided to replace them with new valves that had been found to have no defects.
Engineers also thoroughly modeled what would happen to the shuttle if any of the valves did crack during the launch, and found the chances of any serious damage to the orbiter were very remote.
"We're putting valves in the vehicle that have no cracks," said John Shannon, NASA space shuttle program manager. "We also showed the risk on the consequence side went down significantly from what we were speculating it would be a couple weeks ago."
Launch windows
During Discovery's planned 14-day mission, the astronauts are due to install the new solar arrays to outfit the space station with enough power to run science experiments and support new, expanded long-duration crews of six. The mission is set to feature four spacewalks.
However, if the team is forced to delay Discovery's launch date because of weather, managers may decide to remove up to two spacewalks from the flight to shorten it, allowing them to launch as late as March 16. The spacewalks, or EVAs, wouldn't be cancelled, but just rescheduled for later missions.
"We could give those EVAs up if we needed to get more launch time," Shannon said.
Discovery's crew includes pilot Tony Antonelli and mission specialists Joseph Acaba, Steve Swanson, Richard Arnold, and John Phillips. Japan Aerospace Exploration Agency astronaut Koichi Wakata will also ride aboard Discovery to take up position as a new flight engineer for the space station's Expedition 18. He will relieve NASA astronaut Sandra Magnus, who has been on the station for more than four months. Wakata is set to return to Earth aboard next station shuttle mission, STS-127, which is targeted to launch in June 2009.
New Show - NewSpace: The Orbital Industrial Revolution

Video - Danger at the Pad! Shuttle Escape Training

Video - Space Shuttle Bloopers