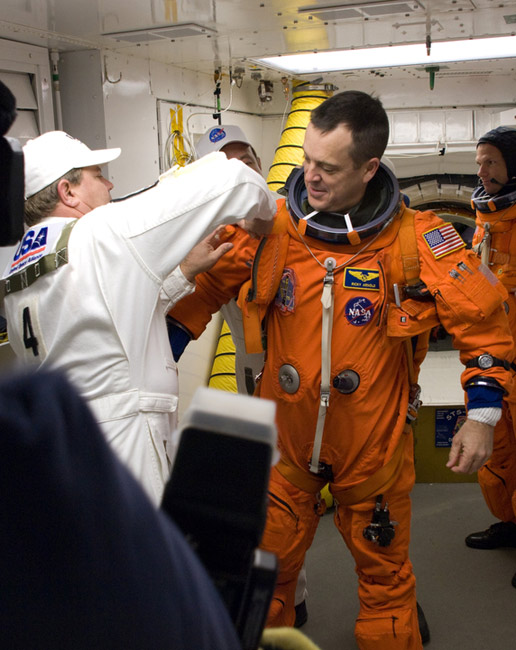 The seven astronauts set to blast off aboard NASA?s space shuttle Discovery next month climbed aboard their spacecraft Wednesday for a launch dress rehearsal that ended in a mock emergency escape.
Clad in bright orange pressure suits, shuttle commander Lee Archambault and his STS-119 crew strapped into their seats aboard Discovery for the traditional preflight review at NASA?s seaside Pad 39A launch site at the Kennedy Space Center in Cape Canaveral, Fla. The astronauts are due to launch Feb. 12 to deliver new solar arrays to the International Space Station.
?This is really the culmination of our training, when we get the chance to come out here for a few days,? Archambault told reporters Monday after he and his crew arrived at the Florida spaceport from Houston, Texas. ?We did a nice pad flyby on our way in. It?s beautiful to see Discovery out on the pad.?
Archambault and his STS-119 crewmates spend several days going through NASA?s traditional Terminal Countdown Demonstration Test. The astronauts got a chance to examine Discovery and its solar array cargo, as well as practice driving NASA?s M-113 turret-less tank. Archambault and pilot Tony Antonelli also practiced landing at the nearby Shuttle Landing Facility using an aircraft modified to perform like a returning space shuttle.
The training session precedes every shuttle mission to give astronauts the opportunity to get a hands-on look at their actual spacecraft and practice emergency launch pad escape plans by simulating a launch abort just before 11:00 a.m. EST (1600 GMT). During a real launch pad emergency, astronauts would zip away from Pad 39A in zip line baskets, then use the tank to drive out to a safe distance.
?They?re safely out of the shuttle,? NASA spokesperson Allard Beutel told SPACE.com from the spaceport today. ?The simulation went just fine.?
Discovery?s STS-119 astronauts were due to head back to NASA?s Johnson Space Center in Houston this afternoon to complete their last few weeks of prelaunch training. Meanwhile, engineers at the Kennedy Space Center shut Discovery?s payload bay doors today for what?s expected to be the final time before the spacecraft?s planned Feb. 12 launch at 7:32 a.m. EST (1232 GMT).
NASA shuttle program managers began a preliminary two-day meeting today to discuss Discovery?s readiness for launch. A full Flight Readiness Review is scheduled for Feb. 3, when top NASA officials are expected to set an official Feb. 12 launch date for the mission.
Beutel said that shuttle workers installed Discovery?s cargo - the last pair of U.S. built solar wings and their attached Starboard-6 truss segment - last weekend. To date, the shuttle is in fine shape for its February launch, he added.
?Right now, there?s nothing hardware-wise or crew-wise that would affect plans for the launch next month,? Beutel said, adding that the number of glitches with Discovery have been extremely low.
Video - Space Shuttle Bloopers!

Video - NASA's Constellation Journey Begins: Part 1, Part 2

Images - Stunning Night Launch for Shuttle Endeavour