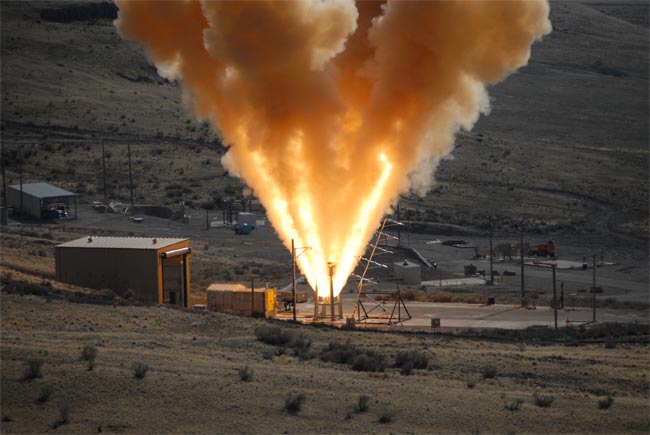 WASHINGTON ? NASA and its contracting team conducted the first full-scale ground test of the U.S. space agency's Moon-bound Constellation program, test firing an abort motor designed to whisk the Orion Crew Exploration Vehicle away from its Ares I launcher in an emergency.
The test took place Nov. 20 at the Alliant Techsystems (ATK) Launch Systems facility in Promontory, Utah. The 5.1-meter abort motor fired for five-and-a-half seconds, consuming most of its propellant in the first three seconds and producing more than a half-million pounds of thrust nearly instantaneously at ignition.
"It performed extremely well. The initial data looks very good," former astronaut Charlie Precourt, ATK's vice president of launch systems, told reporters during a teleconference following the static fire test.
ATK built the motor under subcontract to Orbital Sciences Corp. of Dulles, Va., which is responsible for the Orion launch-abort system. Lockheed Martin Space Systems of Denver is Orion's prime contractor.
Barry Meredith, NASA's launch abort system manager, praised ATK for "pulling together a very complex system and testing it exactly on the day they said they would."
Meredith said the test marked "a major step forward in the development of the Orion Crew Exploration Vehicle and specifically the launch-abort system that is going to provide a safe and reliable method of moving the entire astronaut crew in the event of the emergency from the pad all the way up to [91.44 kilometers] of altitude."
NASA plans to conduct its first Constellation program flight test next spring at White Sands Missile Range in New Mexico. That test will feature a fully integrated launch-abort system with a full-sized mock-up of the Orion crew capsule.
Video - Mock Orion Capsule Crashes to Earth

Video - NASA's Constellation Journey Begins: Part 1, Part 2

Video - Back to the Moon with NASA's Constellation