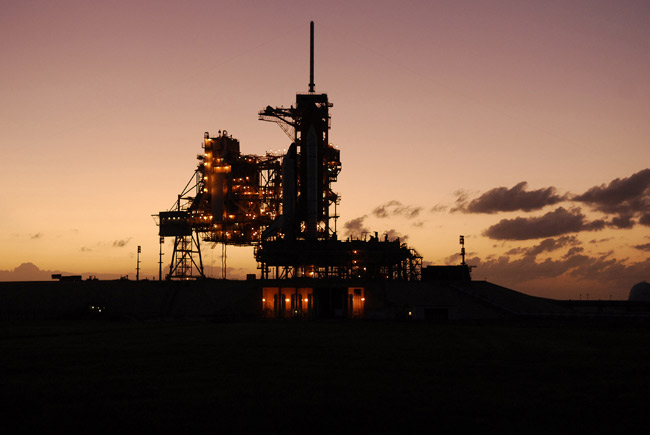 NASA is keeping an eye on the weather as it prepares the shuttle Endeavour for a Friday night launch toward the International Space Station.
Endeavour has a 60 percent chance of favorable launch weather for its planned 7:55 p.m. EST (0055 Nov. 15 GMT) liftoff to ferry a new crewmember and vital new equipment to the space station. Thick clouds and the chance of nearby rain showers at the shuttle?s Kennedy Space Center launch site in Florida are the only concerns, NASA officials said.
?Our systems are in great shape,? said NASA Test Director Jeff Spaulding in a televised briefing at the seaside spaceport in Cape Canaveral, Fla. ?We?re tracking no issues at this time.?
A weather front is expected to arrive at Endeavour?s launch site late this week and poses a 40 percent chance of thwarting the launch late Friday, said Kathy Winters, shuttle weather officer for the launch.
The forecast is even worse for Saturday, with rain and thick clouds posing a 60 percent chance of preventing the shuttle launch, she added.
?The timing of the front will be critical,? Winters said.
While NASA watches the weather, Endeavour shuttle commander Chris Ferguson and his STS-126 crew are due to arrive at the Kennedy Space Center today at about 4:00 p.m. EST (2100 GMT).
Endeavour?s seven astronauts are gearing up for a planned 15-day mission to the space station, where they plan to swap out one member of the outpost?s Expedition 18 crew and deliver a second kitchen, bathroom, new exercise equipment, two sleeping compartments and a recycling system that will allow astronauts to process urine into drinking water.
The new gear is designed to boost the station?s ability to accommodate larger, six-person crews. Four spacewalks are also planned for the mission, which could be extended an extra day if supplies allow, to clean and grease up a balky solar array joint that has been damaged by metal shavings.
The countdown for Endeavour?s launch is slated to begin tonight at about 10:00 p.m. EST (0300 Nov. 12 GMT).
NASA must launch the shuttle by Nov. 25 before having to stand down due to unfavorable power and sun angle conditions at the space station. Mission managers prefer to launch Endeavour by Nov. 21 to avoid docking conflicts with an unmanned Russian Progress cargo ship at the space station late this month.
Endeavour?s STS-126 liftoff will mark NASA?s fourth shuttle flight, and second night launch, of the year. But it comes after a months-long flight hiatus made even longer by last month?s launch delay for the shuttle Discovery?s mission to the Hubble Space Telescope.
??We haven?t had a launch in awhile,? Spaulding said. ?So we?re really excited to be back in the saddle.?
Quiz - How Astronauts Live in Earth Orbit