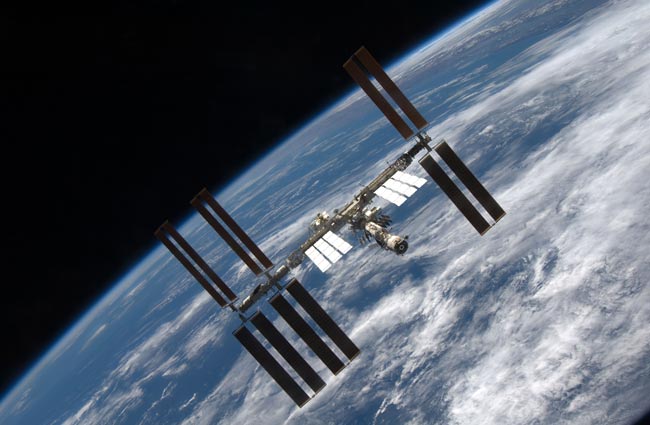 MOSCOW - (Interfax-AVN) - Debris of the Russian space freighter Progress M-01M plunged into the Pacific Ocean following the ship's fiery reentry, Mission Control in Korolyov told Interfax-AVN.
"Those parts of the space freighter which had not been burnt on reentry dropped into the Pacific Ocean," a Mission Control spokesman said.
"The time and the place where the debris dived into the water cannot be exactly given, since there are no Russian observation means in that pat of the world. But the data are not expected to differ seriously from an earlier estimate, provided by Mission Control's ballistic service with an experience of nearly 50 years of doing this job, he said.
The area where the debris dropped safely into the ocean is some 3,000 kilometers east of the capital of New Zealand, Wellington. It is at a long distance from navigation routes. Only heat-resistant parts of the spaceship reached the water.
Progress M-01M, also known as Progress 31, blasted off from Baikonur, Kazakhstan, on November 26 and docked with the International Space Station (ISS) on November 30, bringing along 2.5 tonnes of various cargo, including water, air, food, research equipment and fuel. It was used to adjust the ISS orbit on December 17. The spaceship departed from the ISS on February 6 and its flight characteristics and systems were tested by Mission Control specialists for two days before its destructive reentry.
Progress M-01M is a spaceship of a new series, fitted with a digital flight control system.
A Progress M-66, also known as Progress 32, a previous-series space freighter, will fly to the ISS on February 13. Its launch from the Baikonur is scheduled for 8:49 a.m., Moscow time, February 10.
Head of the diet section of the Institute for Medical and Biological Problems Alexander Agureyev told Interfax on Monday that 15 kilos of cottage cheese and fresh vegetables and fruit (apples, oranges, garlic and onion) had been loaded on the Progress. This amount should be enough for a month. In addition, the families of the ISS crewmembers added chocolates and a waffle cake to the food package.
Progress M-66 is the last but one spacecraft in the 300 series which is still equipped with analog control systems. In the future they will be replaced by spacecraft of the 400 series with a new onboard computer and miniature telemetric system. These systems were tested on the Progress M-01M spaceship launched to ISS in November 2008 and dumped in the Pacific Ocean last Sunday. After the completion of tests the systems will be installed in the new modification of the piloted Soyuz spacecraft.
New Video - Shaky Space Station

Video - The Fiery Demise of Europe's Jules Verne Spaceship