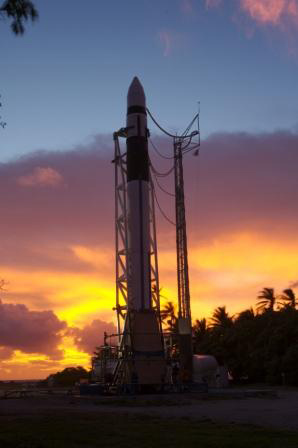 The second test flight of a Falcon 1 rocket built by the private spaceflight firm Space Exploration Technologies (SpaceX) has shifted to early March due to range safety demands at the company's island launch site.
SpaceX had previously targeted a mid-February launch date for its second Falcon 1 test mission, but the absence of key range safety personnel will delay the flight to no earlier than March 9, Elon Musk, the El Segundo, California-based firm's CEO, said written status update.
"We have recently been informed by the Kwajalein Army Range that they do not have sufficient resources to support our launch in mid to late [February]," Musk said in the Thursday update. "Several range personnel critical to the launch safety process will be unavailable in that timeframe."
SpaceX plans to launch the second Falcon 1 rocket, the first to fly since the booster's unsuccessful debut last year, from Omelek Island in the west Pacific Ocean [image]. The launch site is sits in the Marshall Islands' Kwajalein Atoll, where the U.S. Army houses its Ronald Reagan Ballistic Missile Defense Site.
Initially slated for a late January liftoff, Space X officials opted to push back the planned space shot to mid-February due to concerns over a thrust vector control pitch actuator on the Falcon 1 booster's second stage. The delay moved the planned space shot beyond its slim two-day January launch window, prompting SpaceX officials to stand down until after a military Minuteman missile test.
The planned March 9 space shot is a second demonstration flight for the U.S. Defense Advanced Research Projects Agency (DARPA), which also funded the Falcon 1's failed inaugural launch, and will carry two experimental payloads into orbit, SpaceX officials have said.
SpaceX's Falcon 1 rocket is a two-stage booster with a reusable first stage designed to parachute back to an ocean splashdown after liftoff. The booster stands about 68 feet (21 meters) tall and is designed to lift off from launch pads at the Kwajalein Atoll or Vandenberg Air Force Base in California.
The first Falcon 1 test launch ended just after liftoff when a fuel leak and fire caused an engine shutdown 34 seconds into the flight [image]. The failure was later traced to the corrosion of a small aluminum nut.
Gywnne Shotwell, SpaceX's vice president for business development, told SPACE.com last month that the private launch firm has set up new procedures, such as sheltering Falcon 1 rockets instead of keeping them on the launch pads for extended periods, to protect the boosters from the corroding effects of salt water spray at their seaside launch sites.
Earlier this week, Musk announced that SpaceX is gearing up for three planned Falcon 1 launches in 2007. They include the March 9 test, a summer space shot for the U.S. Naval Research Laboratory and a later launch to orbit a satellite for the Malaysian Space Agency.
"We are also building an additional Falcon 1 vehicle in the event that some promising customer discussions culminate in a fourth Falcon 1 launch this year," he added.