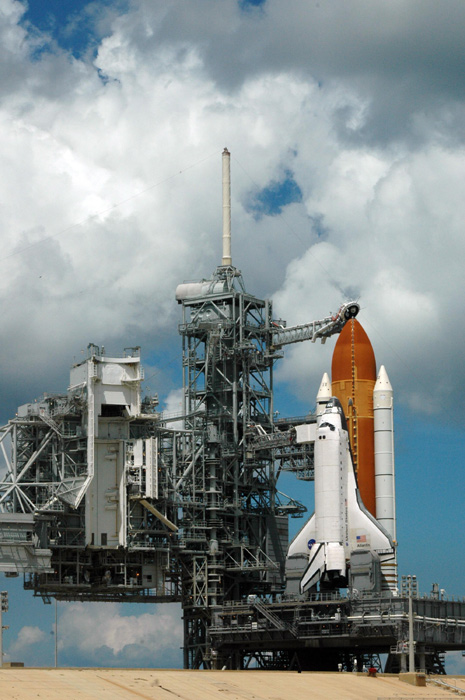 This story was updated at 11:17 a.m. EDT.
CAPE CANAVERAL, Fla. - Last minute glitches continued to plague NASA's space shuttle Atlantis after an errant fuel tank sensor prevented the orbiter and its six-astronaut crew from rocketing towards the International Space Station (ISS) Friday.
For the second time in three days, Atlantis stood down from a planned mid-day liftoff due to technical issues. The spacecraft's STS-115 astronauts - commanded by veteran spaceflyer Brent Jett - were buckled inside Atlantis and set to launch spaceward at 11:40:37 a.m. EDT (1540:37 GMT) before shuttle managers scrubbed the attempted space shot.
"We had a lot discussion...and we follow the rules," NASA launch director Michael Leinbach told Jett, adding that the scrub falls in line with shuttle flight restrictions.
"We understand and we concur 100 percent," Jett replied. "That whole plan was given a lot of thought by a lot of smart people...it's the right thing to do."
Launch is now set for 11:15 a.m. EDT (1515 GMT) tomorrow, with weather forecasts offering an 80 percent chance of favorable flight conditions, NASA said.
"We've got a lot of confidence in tomorrow," Jett said.
NASA has only one remaining day - Sept. 9 - to launch Atlantis' scrub-ridden mission to jump start ISS construction before settling into an extended delay to allow time for a Russian Soyuz mission to swap out station crewmembers. The next available launch attempt can occur no earlier than late September or early October, shuttle officials have said.
Atlantis' STS-115 mission will deliver a $371.8 million pair of new trusses and solar arrays to the ISS. The spaceflight will mark NASA's third shuttle mission since the 2003 Columbia accident and the first major ISS construction flight since late 2002.
Joining Jett aboard Atlantis STS-115 spaceflight are pilot Chris Ferguson and mission specialists Joseph Tanner, Daniel Burbank, Heidemarie Stefanyshyn-Piper and Steven MacLean - representing the Canadian Space Agency.
Sensor issues
Today's scrub comes after a series of delays for Atlantis that culminated in the failure of one of four liquid hydrogen fuel gauge sensors in the orbiter's external tank.
Known as engine cutoff (ECO) sensors, the small detectors measure the amount of fuel remaining in a shuttle's external tank, and are designed as a backup system to shut down an orbiter's three main engines before propellant runs out.
ECO sensor No. 3 inside the liquid hydrogen vessel at the bottom of Atlantis' 15-story external tank failed a standard prelaunch check, in which launch controllers direct the fuel gauge to read 'dry' - indicating an empty tank - but the sensor continued to read 'wet'.
If the more than one ECO sensor reads wet when the fuel tank is actually dry during launch, which would require a number of sequential failures, the engines could rip apart and cause catastrophic damage. A false 'dry' reading when fuel actually remains could shut down Atlantis' engines prematurely before the shuttle reaches its intended orbit.
NASA flight rules typically call for four working sensors in both the liquid oxygen and liquid hydrogen fuel tanks, but the regulations do have an exception that would allow a Saturday launch. That approval hinges on the results of additional sensor checks as engineers drain Atlantis' external tank tonight and refill it early Saturday.
If all four sensors work fine, or if the problem occurs exactly as seen today, Atlantis could launch on Saturday, NASA spokesperson June Malone told SPACE.com.
That same rationale allowed NASA's space shuttle Discovery to launch its STS-114 return to flight mission in July 2005 despite a 13-day delay due to a similar ECO sensor problem. The sensors, all tracked to a batch manufactured in 1996, were later replaced with new versions in future shuttle external tanks.
Malone said the external tank draining and refilling process will give shuttle engineers a critical look at the health of its ECO sensors.
"They are very valuable," NASA spokesperson June Malone told SPACE.com of the additional sensor checks. "It's simply more data to measure the sensor performance."
Delays a plenty
Atlantis has suffered a series of inopportune delays from its initial Aug. 27 launch date. The flight has been postponed due to a lightning strike to the shuttle's launch pad, weather threats from a tropical depression and - on Wednesday - a power glitch in a pump motor that helps cool one of the spacecraft's three vital fuel cells. The fuel cell issue led shuttle officials to scrub a Sept. 6 launch attempt, but was not in violation of any flight rules.
There were no additional fuel cell pump motor issues akin to that which prevented a Sept. 6 launch attempt for Atlantis, NASA spokesperson George Diller said.
"It's an extremely complicated machine, the space shuttle," NASA astronaut Robert Satcher told SPACE.com Thursday. "It takes a lot of people with expertise to make it work, and they do a very good job at it."
Gallery: Prepping Atlantis
Complete Space Shuttle Mission Coverage
NASA's STS-115: Shuttle Atlantis to Jump Start ISS Construction
The Great Space Quiz: Space Shuttle Countdown
Complete Coverage: ISS Expedition 13