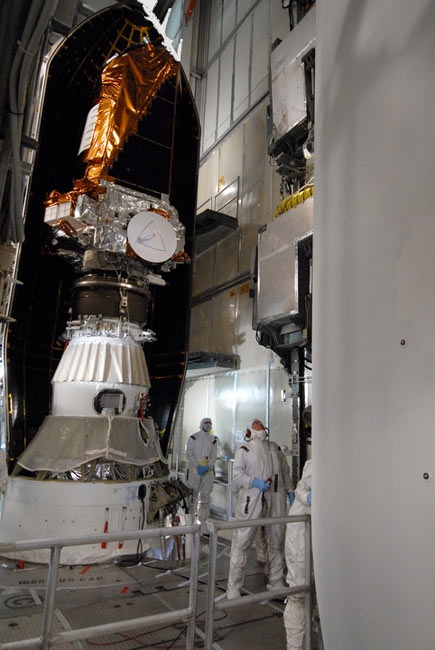 This story was updated at 1:33 p.m. EST.
NASA has delayed the planned launch of its new planet-hunting Kepler spacecraft next week by one day to allow time for extra rocket checks after the agency?s latest satellite crashed into ocean on Tuesday.
The nearly $600 million Kepler mission is now slated to blast off from the Cape Canaveral Air Force Station in Florida on March 6 at 10:49 p.m. EST (0349 March 7 GMT), NASA officials announced late Thursday.
The extra day gives NASA engineers more time to double check systems on the protective clamshell-like shroud at the nose of the Kepler spacecraft?s Delta 2 rocket to ensure they will work properly. Kepler is a space telescope built to search for Earth-like planets in orbit around other stars.
On Tuesday, NASA?s $273.4 million Orbiting Carbon Observatory plunged into the ocean near Antarctica when the payload shroud of its Taurus XL rocket failed to separate as designed about three minutes after launching from California?s Vandenberg Air Force Base. NASA is forming a mishap investigation board to root out the exact cause of the failed launch.
The Taurus XL rocket is built by Dulles, Va.-based Orbital Sciences, Corp., and Kepler?s Delta 2 booster is built by the joint United Launch Alliance. But NASA wants to be extra sure Kepler and its Delta 2 rocket will not suffer the same fate as the lost Orbiting Carbon Observatory despite having a different manufacturer.
?They want to look at all the systems and check any similarities between the Delta 2 and Taurus rockets,? NASA spokesperson Tracy Young said Friday from the agency?s Kennedy Space Center near Kepler?s launch site.
Young told SPACE.com that Kepler mission managers have postponed a planned Saturday meeting to discuss whether the spacecraft is ready for flight until Monday. If all is well then, Kepler will be cleared for a late Friday launch, she added.
The Kepler spacecraft is expected to spend at least 3 1/2 years searching a 3,000 light-year target zone for signs of extrasolar planets about the size of Earth or larger. To date, more than 300 extrasolar planets have been discovered circling stars in our Milky Way galaxy, most of them the size of Jupiter or larger.
Video - A World Like Our Own

Top 10 Most Intriguing Extrasolar Planets

Video - Planet Hunter