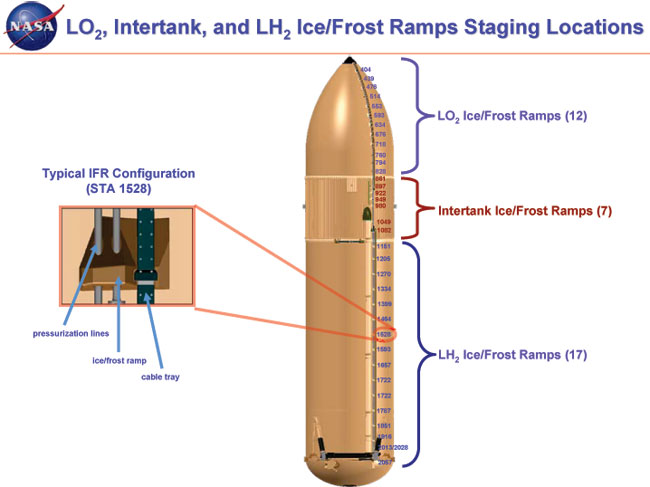 CAPE CANAVERAL - NASA Administrator Mike Griffin responded at length this weekend to questions about his decision to go ahead with a July 1 shuttle launch despite the objections of his chiefs of safety and engineering.
This is a sampling of his explanation of the decision in his own words:
On foam debris risk: "I do not see this as being a crew loss situation. If we are unlucky and we have a debris event on ascent, it will not impede the ascent. The crew will arrive safely on orbit and then we will begin to look at our options, whether those include repair, launch on need, extended safe haven on the station, asking our Russian partners for help, or maybe some or all of the above.
"We would have decisions to make, but we would have time to make those decisions. We are not in the situation that we were in with Columbia, where we did not know we had a problem. We know we have a problem. We are electing to take the risk. We do not believe we are risking crew. There is a programmatic risk without doubt.
"If we have another major incident launching a space shuttle, I would not wish to continue with the program. We are going to use this flight and the subsequent flights to complete the space station . . . We believe it is possible to do so. But if it is going to be possible to do so, we are going to have to take some programmatic risks because the shuttle will be retired in 2010."
On his role in the decision: "Advisers advise. The administrator, whoever he is in whatever era, has the obligation to decide. That's what I do. We get a lot of advice internally from NASA to the program. The program and the mission director . . . have to at some level decide and . . . if the issue gets big enough, it comes up to me. (Other NASA officials) have the right, have the obligation and have the utter necessity to tell us exactly what they think. But all of that is advice.
"No one else except for the administrator is the administrator. And, fortunately or unfortunately, in this particular time, that is me. I am not trying to persuade people. I am trying to listen as carefully as I can to everything that is being said to me. I try to integrate it all as best I can. I make a decision and then I explain to people what the rationale for that decision was because if I have any holes or flaws in my logic, I want to hear about them."
On dissent: "Some of the senior NASA individuals responsible for particular technical areas, particular disciplines, expressed that they would rather stand down until we had fixed the ice-frost ramps with something better, whereas many others said, 'No, we should go ahead.'
"So we did not have unanimity. Therefore, a decision had to be made. Now, one possible way of making decisions is that unless everybody feels that we should go, then we will stand down. In which case, I don't think for shuttle flights or any other flights, we don't need an administrator. We don't actually make decisions. We just make sure that no one is unhappy. That's not the method that were using."
The Great Space Quiz: Space Shuttle Countdown
NASA Safety Chief Speaks Out on Foam Concerns
Return to Flight: NASA's Road to STS-121
Published under license from FLORIDA TODAY. Copyright ? 2006 FLORIDA TODAY. No portion of this material may be reproduced in any way without the written consent of FLORIDA TODAY.