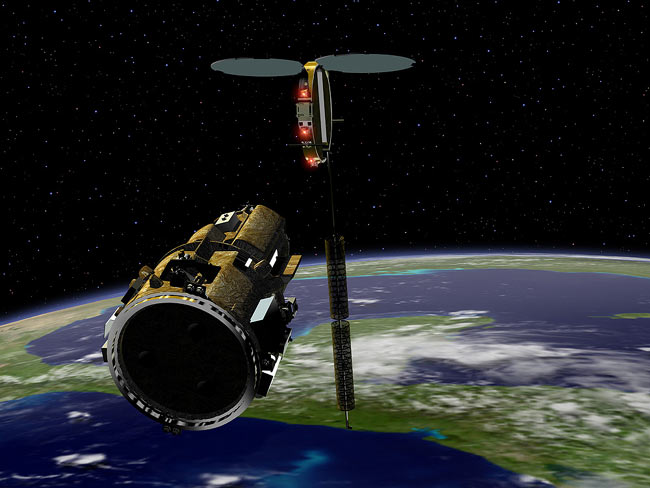 A host of errors, both technical and human-caused, prevented NASA's DART spacecraft from completing its mission to rendezvous with a military satellite last year, the mishap's chief investigator said Tuesday.
Scott Croomes, the NASA engineer who chaired the DART Mishap Investigation Board, said the mission's failure stemmed from a combination of spacecraft navigation errors and missteps by the vehicle's NASA and contractor design teams.
"There was not one single cause," Croomes told reporters during a Tuesday teleconference. "It was not a smoking gun, but the parts that made up the gun. Any one of which, had it not been there...the gun would not have fired."
NASA's $110 million DART - or Demonstration Autonomous Rendezvous Technology - mission launched on April 15, 2005 on 24-hour mission to meet and fly around an aging military communication satellite dubbed MUBLCOM. But the mission ended less than 11 hours later after DART collided with MUBLCOM instead of performing a series of precise maneuvers around the small spacecraft.
"What we found in the investigation is that this almost worked," said Croomes, who also serves as test laboratory deputy manager at NASA's Marshall Space Flight Center (MSFC) in Huntsville, Alabama. "I think there are quite a few lessons available for other programs."
Croomes led a 4.5-month, $1 million investigation into the mishap, though NASA has said the official 70-page report will not be publicly released because it contains sensitive material protected by International Traffic in Arms Regulations (ITAR). The space agency instead released a 10-page summary of the investigation board's findings Monday, about eight months after the initial report was completed.
Some of the redacted material from the initial report referred to spacecraft navigation issues, Croomes added.
In addition to software glitches that led to DART's navigation errors, investigators found a lack of adequate experience and training among the spacecraft's development team. Spacecraft designers also failed to draw on the available expertise provided for the mission, the mishap summary reported.
"The outcome could have been different had they heeded the advice of their paid experts," Croomes said of the DART designers. "They were available and being paid for."
Part of the problem, Croomes said, lay in DART's origin as a high-risk, low-budget mission, which left much of the details of the spacecraft's design and construction up to its primary contractor, the Dulles, Virginia-based firm Orbital Sciences Corp., which built the 800-pound (362-kilogram) vehicle for NASA's MSFC. But over time, DART's mission took on greater importance as a technology milestone for NASA's Vision of Space Exploration, and should have received additional risk management oversight by NASA officials, investigators found.
Orbital Sciences also built the MUBLCOM satellite and the Pegasus XL rocket that launched DART into orbit. Orbital officials did not comment on the newly released mishap summary itself, but added that while DART did not accomplish all of its goals, the mission did yield several lessons for future autonomous spacecraft systems.
"It was a challenging, experimental mission to begin with and it was all new technology," Orbital Sciences spokesperson Barry Beneski told SPACE.com of the DART mission. "Finding out what went wrong and why is an important part of the process to learn so that next time the technology is tested out we'll get even better at it."
Croomes added NASA should not allow the DART mission mishap to prevent subsequent tests of autonomous spacecraft rendezvous systems.
"This was the first time the United States attempted an autonomous mission like this," Croomes said. "NASA should not shrink back from attempting things that are difficult."