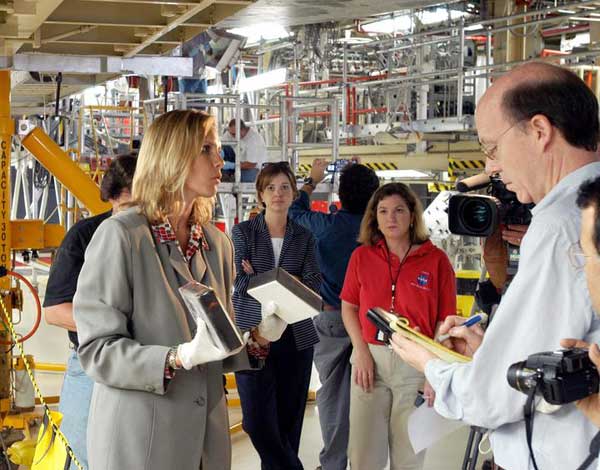 This story is Chapter 4 in an 11-part series by Florida Today.
COCOA - Stephanie Stilson's cell phone rang as she listened to her college class on another phone. She was working to get her master's degree in business, and the University of Florida teleconference was part of her online course.
She skipped a meeting at work so she wouldn't miss her virtual class. But as the NASA manager responsible for shuttle Discovery, she finds that work follows her home.
It was February 2004. She -- and everyone else -- looked forward to seeing Atlantis return the fleet to space. Stilson was about to find out otherwise.
She answered the cell phone.
"Well," said Scott Thurston, her equivalent on the Atlantis team, "you're it!"
It wasn't a good day for Thurston, but he was good-humored about it. Inspectors found improperly installed gears in Atlantis' braking system. They found the same problem in Discovery, but it would take longer to get Atlantis ready.
Discovery would lead NASA's shuttles back to space. And Stilson -- used to juggling school, work, softball, her pets and the rest of her life -- would lead Discovery.
"Wow, this is going to be really neat," she thought.
She didn't realize what Discovery's move to the front of the line meant for her.
"At that time, I'm just still processing the orbiter, getting ready to fly," she said. "I don't have any idea of all the things that are going to happen, the discussions I'm going to be a part of."
Stilson had shepherded Discovery through flight preparations twice before. It was nothing like this: more talk, more meetings, more debates, more modifications, more news reporters.
There were days when she got frustrated; for instance, every time a management decision added work to the flow. But her team, and her spirit, carried her through.
"I work with so many great people that everyone takes responsibility for what their part is in it," she said, "and you know, in all reality, I have a very small part, because there are so many people that are doing the hard work. . . . They all make my job easy."
FORT MYERS: Passion for space started early in life
Stilson's energy, optimism and leadership emerged early. Born in Georgia, she grew up in Fort Myers, the oldest of six kids, a perfectionist and a role model.
"She's the leader," father John Stilson said. "She's the one that sets the tone for everybody else."
When she was 8 or 9, she was able to program a complicated game into a Commodore 64 computer. During a visit to Kennedy Space Center, she told her dad she wanted to be an astronaut. She had a cutout solar system strung across her ceiling. "She loved the space program," he said.
Together, she, her father and one of her brothers took an astronomy course at Edison Community College when she was about 10. They were the class darlings, passing with great marks. In the stars, John Stilson saw the signs of where Stephanie was headed.
She was determined and aggressive. Always a good athlete, she specialized in softball. In basketball, she couldn't be stopped.
"Her temperament is, I think, a lot like mine," John Stilson said. "I don't think she ever made it through a full game without fouling out."
She studied computer and electrical engineering at North Carolina State University and, while in school, applied to work at NASA. There were no openings. She started looking elsewhere, then got a surprise offer to work at Kennedy Space Center.
Once she graduated, she worked full time on Spacelab, a laboratory that sits inside the shuttles' cargo bays. Then, she moved to power systems for the International Space Station.
She wanted to work on the shuttles. She didn't see how they could be as complex as the station payloads, which are different for every mission.
"They're just processing the same vehicle every time," she and her friends working on the space station used to say. "It can't be that difficult."
Then she started working on the shuttle as Discovery's manager. She found out why everything took so long. It's complicated. It's old. She learned to respect it, and fast.
"There's never a time where everything's just OK," said Stilson, 35. "There's always something that comes up that you've got to go either figure out, investigate, determine whether you need to replace it, or figure out if you need to do additional testing."
COCOA: Relaxing oasis offers a break from Discovery
Stilson's home in west Cocoa is an oasis, a place to relax after the stresses of work.
On a large lot rich in palmettos and larger trees, she and roommate Shannon Logan can let the two dogs run. There's Scrappy Lou, a feisty Boston terrier who got a C in obedience class. And there's Santa's Little Helper, a pug puppy named for the dog on "The Simpsons." Stilson also has a cat named Snowball, another name borrowed from the show.
One evening in her yard, the two dogs, both females, grappled for a stick, even though there were plenty to choose from.
They, and everything else about the place, seem to match Stilson's personality: boundlessly energetic, friendly, with a sense of adventure, an appreciation of nature.
The yard, with its fire pit and trees wrapped with strings of lights, is perfect for parties, like the one she has on New Year's Eve.
On the second-floor deck, Stilson can aim her telescope skyward.
Feeders attract a variety of birds; she has spotted painted buntings there, a big deal for birders. It's a hobby she picked up from her former in-laws. She plans vacations around places where she can spy new species for her list.
The garage houses her two cool cars: a 1966 Mustang in Tahoe Turquoise and a 2002 Thunderbird in a nearly identical color.
And just inside the front door is a framed poster of rocker Melissa Etheridge, facing away from the camera, a guitar slung over her bare back. "It sends such a message of how you can be tough but still feminine," Stilson said.
KENNEDY SPACE CENTER: Short delays keep manager on her toes
"She's an up-and-comer," said shuttle program manager Bill Parsons, who once had Stilson's job at Kennedy Space Center. "She is one of the bright stars that we have out here."
When you see people like that, Parsons said, you just want to remove any barriers in their way. But there still are many to overcome.
Every morning while the orbiter is in the garage, Stilson runs an early meeting in a narrow, windowless room with light-gray walls and dark-gray carpet, a refrigerator and a TV. The topic is schedules: When will everything get done? How will they knit seven days of work, three shifts apiece, into one seamless flow when so many tasks are dependent upon another?
People drink coffee and Pepsi and talk about glitches and plans. Stilson forgoes caffeine but pays close attention, asking questions to make sure everyone's on track.
The Columbia Accident Investigation Board found that schedule pressure led managers to compromise safety. Even if NASA says it's not schedule-driven now, someone has to lay down a timeline and try to meet it. The buck stops at KSC and, in the case of this mission, with Stilson.
In a work flow this long, what the shuttle types call a major modification period, it's important to have deadlines, Stilson said.
"New things creep up every day," she said. "So for us to sit back and say, 'Oh, we've got extra time now,' it doesn't work that way. It really doesn't. We have to keep looking at our near-term milestones and hold those, because we never know what's around the next corner that may be a big hitter that would cause us to go back to the program and say, 'We're in trouble.' "
After the accident, people across the agency saw a chance to re-evaluate everything, not just the areas highlighted by the Columbia investigators. Stilson's team had to put the pieces together. There were refurbished panels and new sensor wiring for the wings, and an extension to the robot arm to inspect the ship's heat shield in orbit. There were problems with flex hoses, leaky thrusters, reversed gears in the brakes, landing-gear door seals.
Short delay after short delay piled onto the big delay after repeated hurricanes closed KSC.
Stilson's biggest concern wasn't any one thing. It was the constantly mounting little things.
"As we don't make those targets, everything gets pushed out and pushed out and pushed out," she said, "and myself and my contractor counterpart (with United Space Alliance), we're very close to that, and we know that even though it looks just like a little thing, when you keep pushing it out, it creates this bow wave at the end."
Published under license from FLORIDA TODAY. Copyright ? 2005 FLORIDA TODAY. No portion of this material may be reproduced in any way without the written consent of FLORIDA TODAY.
Florida Today Special Report: NASA's Return to Shuttle Flight
Fixing NASA: Complete Coverage of Space Shuttle Return to Flight