Live
NASA's Mars 2020 Perseverance rover mission: Live updates
By Chelsea Gohd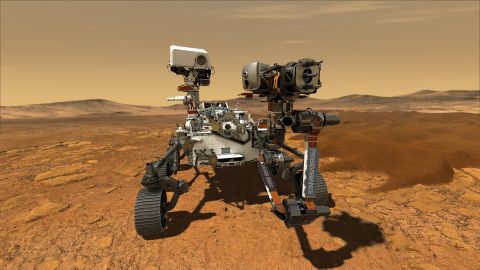 (Image: © NASA/JPL-Caltech)
NASA's Mars 2020 Perseverance rover is in the home stretch of its long trek to Mars. The car-size Perseverance will land inside the 28-mile-wide (45 kilometers) Jezero Crater in less than a month, on Feb. 18, 2021.
Perseverance's main mission goals involve hunting for signs of ancient life inside Jezero, which hosted a lake and river delta long ago, and collecting and caching samples for future return to Earth.
NASA's Mars 2020 Perseverance rover lifted off successfully July 30, at 7:50 a.m. EDT (1150 GMT) aboard a United Launch Alliance Atlas V rocket from Space Launch Complex 41 at Cape Canaveral Air Force Station in Florida.
The rover will take about seven months to travel to the Red Planet and, on Feb. 18, 2021, will land in Mars' Jezero Crater to search for signs of life, explore the planet's geology and much more.
Sign Up for e-mail newsletters
Get breaking space news and the latest updates on rocket launches, skywatching events and more!
Thank you for signing up to Space. You will receive a verification email shortly.
There was a problem. Please refresh the page and try again.