Update for 11 p.m. EDT: SpaceX has successfully launched its 1st 60 Starlink satellites into orbit. Deployment is coming up next. Read our full story here!
SpaceX plans to launch 60 Starlink satellites today (May 23). It will be the company's third attempt after the launch was scrubbed twice last week — first due to high-altitude winds on May 15, then for last-minute software checks on May 16.
If the third try is the charm, the Falcon 9 rocket carrying the Starlink satellites will lift off from Cape Canaveral Air Force Station in Florida at 10:30 p.m. EDT (0230 GMT on May 24). You can watch a live webcast of the launch in the window above starting about 15 minutes before liftoff, courtesy of SpaceX.
This mission is the second launch for SpaceX's Starlink constellation (the company launched two prototypes last year) and the first to feature production versions of the satellites.
Related: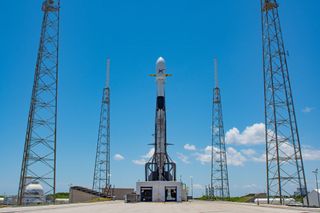 "SpaceX is targeting Thursday, May 23 for the launch of 60 Starlink satellites from Space Launch Complex 40 (SLC-40) at Cape Canaveral Air Force Station, Florida. SpaceX's Starlink is a next-generation satellite network capable of connecting the globe, especially reaching those who are not yet connected, with reliable and affordable broadband internet services.
"The launch window opens at 10:30 p.m. EDT on May 23, or 2:30 UTC on May 24, and closes at 12:00 a.m. on May 24, or 4:00 UTC. A backup launch window opens on Friday, May 24 at 10:30 p.m. EDT, or 2:30 UTC on May 25, and closes at 12:00 a.m. on May 25, or 4:00 UTC. Falcon 9's first stage for this mission previously supported the Telstar 18 VANTAGE mission in September 2018 and the Iridium-8 mission in January 2019. Following stage separation, SpaceX will attempt to land Falcon 9's first stage on the "Of Course I Still Love You" droneship, which will be stationed in the Atlantic Ocean. Approximately one hour and two minutes after liftoff, the Starlink satellites will begin deployment at an altitude of 440km. They will then use onboard propulsion to reach an operational altitude of 550km.
"SpaceX designed Starlink to connect end users with low latency, high bandwidth broadband services by providing continual coverage around the world using a network of thousands of satellites in low Earth orbit. To manufacture and launch a constellation of such scale, SpaceX is using the same rapid iteration in design approach that led to the successes of Falcon 1, Falcon 9, Falcon Heavy, and Dragon. As such, Starlink's simplified design is significantly more scalable and capable than its first experimental iteration.
"With a flat-panel design featuring multiple high-throughput antennas and a single solar array, each Starlink satellite weighs approximately 227kg, allowing SpaceX to maximize mass production and take full advantage of Falcon 9's launch capabilities. To adjust position on orbit, maintain intended altitude, and deorbit, Starlink satellites feature Hall thrusters powered by krypton. Designed and built upon the heritage of Dragon, each spacecraft is equipped with a star tracker navigation system that allows SpaceX to point the satellites with precision. Importantly, Starlink satellites are capable of tracking on-orbit debris and autonomously avoiding collision. Additionally, 95 percent of all components of this design will quickly burn in Earth's atmosphere at the end of each satellite's lifecycle—exceeding all current safety standards—with future iterative designs moving to complete disintegration.
"This mission will push the operational capabilities of the satellites to the limit. SpaceX expects to encounter issues along the way, but our learnings here are key to developing an affordable and reliable broadband service in the future."
Live HD Views of Earth from Space
You can watch live, high-definition views of Earth from the International Space Station thanks to NASA's High Definition Earth Viewing experiment (HDEV). This live video provides alternating views from four of the station's external cameras nearly 24/7, with the exception of regular and temporary dropouts that occur when the station switches its connection between different communications satellites. Watch it live in the window above, courtesy of NASA TV.
"Behold, the Earth! See live views of Earth from the International Space Station coming to you by NASA's High Definition Earth Viewing (HDEV) experiment.
"While the experiment is operational, views will typically sequence through the different cameras. If you are seeing a black image, the Space Station is on the night side of the Earth. If you are seeing an image with text displayed, the communications are switching between satellites and camera feeds are temporarily unavailable. Between camera switches, a black & gray slate will also briefly appear.
"The experiment was activated on April 30, 2014 and is mounted on the External Payload Facility of the European Space Agency's Columbus module. This experiment includes several commercial HD video cameras aimed at the Earth which are enclosed in a pressurized and temperature controlled housing. To learn more about the HDEV experiment, visit: https://eol.jsc.nasa.gov/ESRS/HDEV/
"Please note: The HDEV cycling of the cameras will sometimes be halted, causing the video to only show select camera feeds. This is handled by the HDEV team, and is only scheduled on a temporary basis. Nominal video will resume once the team has finished their scheduled event."
'ISS Live!' Tune in to the International Space Station
Find out what the astronauts and cosmonauts aboard the International Space Station are up to by tuning in to the "ISS Live" broadcast. Hear conversations between the crew and mission controllers on Earth and watch them work inside the U.S. segment of the orbiting laboratory. When the crew is off duty, you can enjoy live views of Earth from Space. You can watch and listen in the window below, courtesy of NASA.
"Live video from the International Space Station includes internal views when the crew is on-duty and Earth views at other times. The video is accompanied by audio of conversations between the crew and Mission Control. This video is only available when the space station is in contact with the ground. During 'loss of signal' periods, viewers will see a blue screen.
"Since the station orbits the Earth once every 90 minutes, it experiences a sunrise or a sunset about every 45 minutes. When the station is in darkness, external camera video may appear black, but can sometimes provide spectacular views of lightning or city lights below."
Follow us on Twitter @Spacedotcom and on Facebook.