Comet West
This photograph of Comet West, one of the greatest comets of all-time, was taken by amateur astronomer John Laborde. The picture shows the two distinct tails. The thin blue ion tail is made up of gases, while the broad white tail is made up of tiny dust particles.
The Streak
This gallery showcases the first images taken by NASA's Wide-field Infrared Survey Explorer (WISE) spacecraft. Comet Siding Spring flashes across the sky impressively in this infrared image. Observers in Australia discovered the comet, also known as C/2007 Q3, in 2007.
Stunning Comet's Size Shocks Scientists
Comet McNaught over the Pacific Ocean. Image taken from Paranal Observatory in January 2007.
Comets From Edge of Solar System Unlikely to Hit Earth
A long-period comet called 2001 RX14 (Linear) turned up in images captured in 2002 by the Sloan Digital Sky Survey telescope in New Mexico.
Broken Comet On Its Way
Comet 73P breaking up in 1995.
Comet Lovejoy & Tail From Space
Comet Lovejoy is visible near Earth's horizon in this nighttime image photographed by NASA astronaut Dan Burbank, Expedition 30 commander, onboard the International Space Station on Dec. 22, 2011.
Halley's Comet in 1986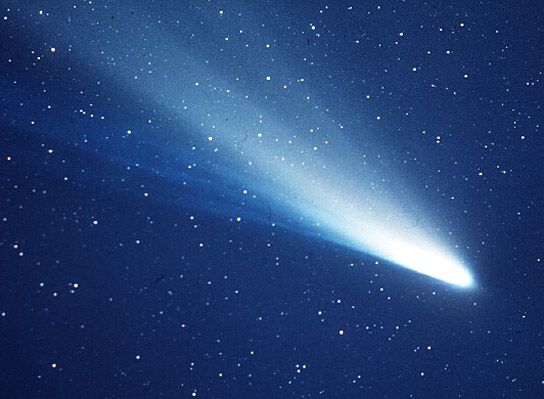 An image of Halley's Comet taken in 1986.
Solar Storms Smack a Comet
This image of comet 153P/Ikeya-Zhang, taken by skywatcher Gilbert Jones on March 11, 2002, shows its ion tail decimated by a run-in with a coronal mass ejection (CME) from the Sun.
Cosmic Stage Set for Comet Lulin Show
Jack Newton and his wife are building a stargazing community 150 miles southeast of Tucson. That Arizona Sky Village was the location from which he made this photo of comet Lulin on Feb. 18, 2009.
Christmas Comet Lovejoy
European Southern Observatory optician Guillaume Blanchard captured this marvellous wide-angle photo of Comet Lovejoy on 22 December 2011 as it appeared over Paranal Observatory in Chile.
Comet Tuttle at the End of 2007
Giampaolo Salvato photographed Comet Tuttle on Dec. 30, 2007 as it appeared near the spiral galaxy M33. The image was taken from northern Italy with a backyard telescope and a digital camera.