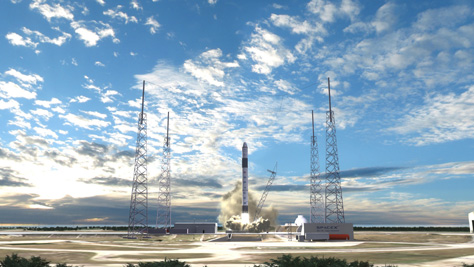 By December, SpaceX plans to bring a nine-engine rocket to Cape Canaveral that company officials believe could be one of the next spacecraft to carry cargo to the International Space Station.
SpaceX hopes this and future rockets can fill the gap between the end of the shuttle program and the start of flights under NASA's Constellation program.
"We plan to deliver and close that gap," Brian G. Mosdell, the SpaceX director of Florida Launch Operations, told the National Space Club in Cocoa Beach Tuesday.
The company, which has failed to orbit a rocket in three tries, has contracts for seven launches from Complex 40 at Cape Canaveral Air Force Station. The company's first Falcon 9 rocket is under construction in Los Angeles. After arriving in December, it is expected to launch during the first quarter of 2009.
After demolishing an old launch tower at Launch Complex 40, the company has installed propellant tanks and plans to complete a 225-foot by 75-foot hangar to assemble the rocket, which will be raised to vertical at the launch pad.
Space Florida, the state entity formed to support the commercial space industry, has given SpaceX more than $1 million in cash and in-kind support, including office space, surplus fuel tanks and administrative support.
Space Florida so far has been undaunted by SpaceX's record of failure during launches from Kwajalein in the central Pacific.
"The success of SpaceX is success for all of us," said Space Florida spokeswoman Deb Spicer. "It will be good for all of us for them to succeed."
The company of 500 has only 25 employees working at the Cape.
"We're working to expand in support of our launch operations," said Mosdell.
"We've really made great progress with our band of 25."
The low-cost commercial Falcon 9 rocket has the same capability as the Delta 4 and the Atlas 5, said Mosdell.
International events have made SpaceX's success important. Due to political fallout from Russia's conflict in Georgia, NASA might not be able to buy flights on the Russian Soyuz spacecraft. NASA might find it necessary to continue flying the shuttle or rely on commercial rockets developed by the Commercial Orbital Transportation Services program, under which NASA is partially funding SpaceX and another company to build experimental rockets.
"Everyone's aware of the political sensitivity (of relying on the Russians)," Mosdell said. "That's just not the best solution."
Published under license from FLORIDA TODAY. Copyright ? 2008 FLORIDA TODAY. No portion of this material may be reproduced in any way without the written consent of FLORIDA TODAY.
Video - SpaceX's Dragon in Orbit

Future of Flight: Space Tourism, Investment and Technology