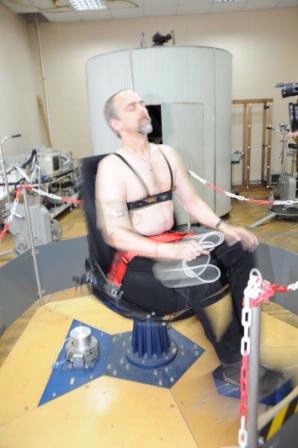 HOUSTON - Space tourist-in-training Richard Garriott hopes to hold class in orbit when he reaches the International Space Station (ISS) this fall.
Garriott, 46, is planning a series of interactive webcasts and other activities with U.S. students in conjunction with the Challenger Center for Space Science Education to spark interest in human spaceflight and science.
Hailing from Austin, Texas, Garriott is an American computer game developer and the son of retired NASA astronaut Owen Garriott. He is paying about $30 million for the chance to launch toward the ISS aboard a Russian rocket in October and will be the first second-generation U.S. spaceflyer once he reaches orbit.
?I'm a big believer in education being the key to the future for all of us here on planet Earth,? Garriott told SPACE.com in a recent interview. ?And I think in particularly in our age, the interest or devotion to space science or science in general is relatively lacking, so anything I can do to kind of help spur that on is time well spent.?
The ?Garriott Science Challenge,? a cooperative effort between the space tourist and the Arlington, Va.-based Challenger Center, a 50-center education group founded by the families of the astronauts lost during NASA?s 1986 Challenger accident. Garriott and center officials announced the joint endeavor during a Tuesday event here at the Houston Museum of Natural Science?s Challenger Learning Center.
?Like father, like son,? said June Scobee Rodgers, widow of Challenger?s 51-L mission commander Dick Scobee and the Challenger Center?s founding chairman, in a statement. ?Dr. Owen Garriott also taught student science lessons from space on his Skylab mission, as Richard plans to do on his flight.?
Garriott?s father Owen flew on the third expedition to the U.S. Skylab space station in 1973 before later flying on a NASA shuttle.
The younger Garriott will ride a Russian-built Soyuz rocket to the ISS on a planned nine-day orbital flight under an agreement brokered with Russia?s Federal Space Agency by the Virginia-based tourism firm Space Adventures. His is the sixth paying visitor to the ISS and plans to conduct protein crystal experiments and recreate his father?s Earth Skylab Earth observation photographs to demonstrate how the planet has changed after more than three decades.
Student outreach
For the Garriott Science Challenge, the space tourist is planning a series of mission-related podcasts and interactive webcasts to discuss his spaceflight. He is also drawing up flight experiments that can be replicated by students on Earth, such as using everyday objects to demonstrate fundamental concepts in physics. The sessions are expected to be available in digital format at the Challenger Center Web site, center officials said.
Once in space, Garriott has said he hopes to speak with students via ham radio sessions. The effort is aimed at continuing the educational outreach begun by NASA astronaut Barbara Morgan, a former Idaho schoolteacher who flew to the ISS in August 2007 during NASA?s STS-118 mission, center officials said. Morgan also served as the backup for Teacher-in-Space Christa McAuliffe, who was a member of Challenger?s seven-astronaut crew during its ill-fated 1986 launch.
The Challenger Center effort is the latest education-themed announcement concerning Garriott?s upcoming spaceflight. Earlier this year, he launched the ?Space Challenge!? in the United Kingdom, which calls on students to contemplate the nature of private spaceflight and design experiments Garriott could perform in space.
?So we've just announced the first step in my fairly broad educational agenda which was this space challenge for students to be able to actually help propose experiments that I can perform directly in space,? Garriott said in an interview.
Garriott recently returned to the U.S. after a six-week training session at Russia?s Gagarin Cosmonaut Training Center in Star City. He is slated to launch toward the ISS with two professional astronauts on Oct. 12 and return to Earth with two Russian cosmonauts, including Sergei Volkov ? the first second-generation cosmonaut to fly in space.
Volkov, commander of the space station?s Expedition 17 mission, is scheduled to launch on April 8 with flight engineer Oleg Kononenko and Yi So-Yeon, South Korea?s first astronaut.
Click here to learn more about the Garriott Science Challenge from the Challenger Center for Space Science Education.
Richard Garriott is chronicling his spaceflight training and orbital mission at his personal Web site: http://www.richardinspace.com.
Future of Flight: Space Tourism, Investment and Technology

VIDEO: Teaching the Future: Teacher-Astronaut Barbara Morgan