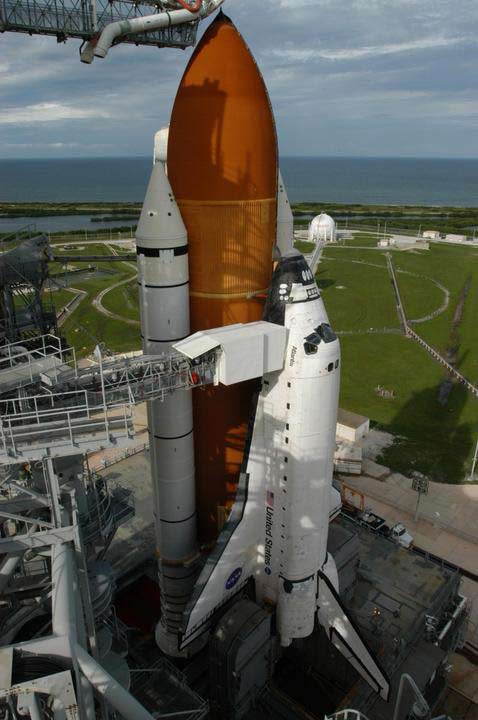 CAPE CANAVERAL, Fla. - The space shuttle Atlantis is once more poised to launch toward the International Space Station (ISS) carrying a six-astronaut crew determined to resume construction of the orbital laboratory.
Atlantis' STS-115 mission is set to launch at 11:40:32 a.m. EDT (1540:32 GMT) to deliver a pair of massive trusses and two new solar arrays to the ISS. Today's planned space shot is NASA's second launch attempt for Atlantis in three days after an odd fuel cell power reading prompted a Wednesday scrub.
After two days of scrutiny, engineers concluded Thursday that the glitch would not be a significant risk to Atlantis' STS-115 mission commanded by veteran shuttle astronaut Brent Jett. The spaceflight's lighted launch window has dwindled to just two days - today and tomorrow - after several delays due to the fuel cell issue, poor weather and a launch pad lightning strike.
"We have a couple of days available for launch and if we get the opportunity to go fly, I would like to take advantage of those couple of days," shuttle program manager Wayne Hale said.
Atlantis is hauling a $371.8 million payload of 17.5-ton trusses and expansive solar arrays.
STS-115 spacewalkers Joseph Tanner, Heidemarie Stefanyshyn-Piper, Daniel Burbank and Steven MacLean will work two at a time to install the truss segments during the three planned spacewalks for their spaceflight. First-time flyer Chris Ferguson is serving as Atlantis' pilot.
Lt. Kaleb Nordgren of the 45th Weather Squadron at Cape Canaveral Air Force Station said Atlantis has a 70 percent chance of acceptable flight conditions today, with forecasts improving to 80 percent on Saturday.
Fuel cell confidence
At the heart of Atlantis latest glitch is a short in one of three current phases that power a coolant pump motor in Fuel Cell 1.
Atlantis carries three fuel cells that use liquid hydrogen and liquid oxygen to generate the electricity used to power all the space shuttle's systems. That power, delivered along three phase loops - A, B and C - also supports a coolant pump motor to prevent each fuel cell from overheating.
It was Phase A that shorted on Fuel Cell 1, though shuttle officials are confident that the other two phases are healthy enough to keep the generator from failing in orbit and cutting Atlantis' 11-day mission short.
Two fuel cells can power the shuttle normally, with the third as a backup, Hale said Thursday.
Steve Poulos, NASA's orbiter projects manager, said Fuel Cell 1's coolant pump motor has been in operation for a lifetime total of 3,948 hours - or less than half of its 10,000-hour certification - despite being nearly 30 years old. A thin wire in Phase A, and possible some degradation over time, are possible sources of the current loop's short, he added.
"It's very robust, it's very reliable," Hale said of the pump motor technology used in NASA fuel cells. "This is not rocket science, this is 19th century technology."
Hale said he marveled at the fact that, despite its age, the motor has shown no other issues earlier in its lifetime. It was first assembled in 1976, shuttle officials said.
"Here we are, 30 years after we put this little motor together and finally...the first one out of all the motors we put together 30 years ago has had a little incident," Hale said. "I wish my car worked that good."
NASA will provide live coverage of Atlantis' launch preparations beginning at 5:30 a.m. EDT (0930 GMT). You are invited to follow the briefing using SPACE.com's NASA TV, which is available by clicking here or using the button at the left.
Gallery: Prepping Atlantis
Complete Space Shuttle Mission Coverage
NASA's STS-115: Shuttle Atlantis to Jump Start ISS Construction
The Great Space Quiz: Space Shuttle Countdown
Complete Coverage: ISS Expedition 13