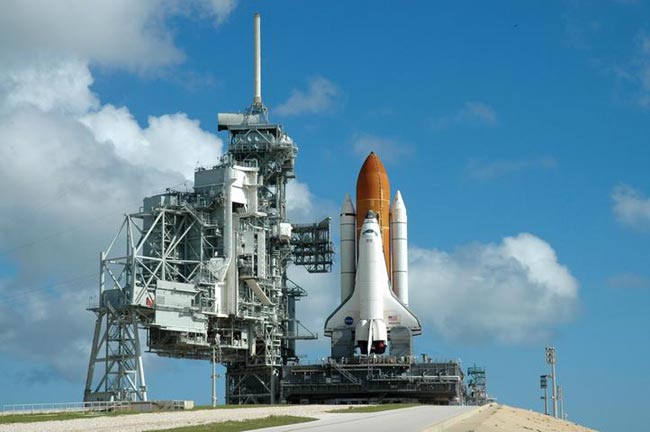 CAPE CANAVERAL, Fla. - With Tropical Storm Ernesto headed their way, NASA officials decided Tuesday to haul the space shuttle Atlantis off its launch pad, effectively delaying the space agency's plan to resume construction of the International Space Station (ISS).
After several launch delays from an initial Aug. 27 target, NASA shuttle officials opted to err on the side of safety and roll Atlantis back into the shelter of the cavernous Vehicle Assembly Building (VAB) here at the Kennedy Space Center. The orbiter will be safe in the 52-story VAB from Ernesto's tropical storm or hurricane force winds, which are expected to batter Atlantis' launch site by Thursday, NASA officials said.
"The rollback essentially is a decision to slip launch by a couple of weeks at least," NASA spokesperson Bruce Buckingham told reporters here at KSC once shuttle managers made the call after a morning weather briefing. "It could have gone either way up to the last minute."
While NASA could conceivably ready Atlantis once more for flight within its original launch window - which closes on Sept. 13 - the agency has repeatedly stated its intent to loft the shuttle and its STS-115 astronaut crew towards the ISS by Sept. 7 to avoid launch and landing conflicts associated with a Russian Soyuz crew change mission set to fly on Sept. 14.
"We essentially have a daylight launch window from Oct. 20 through Nov. 15," NASA launch integration manger LeRoy Cain, currently heading Atlantis' STS-115 Mission Management Team, said Monday. "Only a portion of that is good for the [external tank] separation as well. Somewhere in there is where we're looking in terms of trying to understand what we'd be willing to do to expand our launch capability in October."
NASA has said the optimum dates to photograph the external tank separation after launch occur between Oct. 26 and 27 and one day on Dec. 23.
NASA space station officials are still negotiating with their Russian counterparts to determine if the Soyuz flight could be pushed back to Sept. 18 - which would require a returning Soyuz spacecraft to land in darkness - to give Atlantis extra time to fly its ISS construction flight, which will be the first since late 2002.
"Those discussions are continuing," Buckingham said of the U.S.-Russian ISS negotiations.
The earliest Atlantis could be back on the launch pad and primed for flight would be near the end of its lighted launch window, some time between Sept. 9-12, NASA has said.
Atlantis' STS-115 mission will launch a 17.5-ton of trusses and solar arrays to the ISS to kick off at least 15 planned shuttle flights to complete the orbital laboratory by Sept. 2010, when NASA plans to retire its three-shuttle fleet.
Buckingham said Atlantis' six-astronaut crew - commanded by shuttle flight veteran Brent Jett - left KSC earlier today and are returning to NASA's Johnson Space Center (JSC) for additional training during Atlantis' launch delay. NASA officials at JSC told SPACE.com that it is unknown at this time whether the astronauts will leave quarantine conditions until a specific launch date is set.
Rolling back
NASA's massive crawler carrier vehicle lifted its 12 million pound load of Atlantis, its boosters and fuel tank and their Mobile Launch Platform, and began the 10-hour trek to the (VAB) at 10:05 a.m. EDT (1405 GMT). In order to ferry Atlantis into High Bay 2 in the VAB - a more than four-mile (6.4-kilometer) trip - the crawler is being pushed to its maximum speed of one mile per hour until it has to make a turn to move around the VAB towards its designated slot.
Shuttle planners hoped to tote Atlantis into the VAB's High Bay 3, which faces KSC's two shuttle launch pads, but that space is already occupied by a crawler laden with a Mobile Launch Platform and a partially-stacked solid rocket booster. Attempts to shift that vehicle Monday failed when the crawler broke down, NASA officials said.
For Atlantis, that high bay change tacks on at least three extra hours to what NASA launch director Michael Leinbach estimated would be a day-long trip.
Leinbach said Monday that everything boiled down to weather.
Space shuttles at the launch pad cannot stay in place when faced with the prospect of sustained tropical storm force winds in excess of 40 knots, but must be moved before then since a rotating shell that guarding orbiters from weather cannot be moved during such strong winds.
KSC's surrounding area is under tropical storm and hurricane warnings in anticipation of Tropical Storm Ernesto's arrival, as well as its potential to gain strength before making landfall in Florida.
Compounding today's decision, Leinbach said, was the potential for afternoon thunderstorms and lightning threats arriving at KSC while Atlantis was between the launch pad and the VAB.
"I don't think there was any contention at all," said Buckingham, NASA's KSC spokesperson, who listened in on today's rollback discussion. "I think there was a lot of professionalism, a lot of determination to make the right decision."
A total of 16 shuttles have been rolled back from their launch pad in NASA history, though only four have done so due to impending tropical storms or hurricanes.
Atlantis weather woes
Weather has plagued NASA's STS-115 launch preparations. Strong afternoon thunderstorms battered the KSC area days before Atlantis' initial Aug. 27 launch target.
On Friday, a bolt of lightning - one of, if not the, strongest to ever it a shuttle-laden pad - struck a cable at Atlantis' Pad 39B launch site, prompting launch delays as engineers checked the orbiter's systems for signs of damage.
"There was a collective sigh of frustration with the weather," NASA astronaut Doug Wheelock, who is set to launch toward the ISS aboard Atlantis next year, told SPACE.com. "So I think some folks are disappointed."
Gallery: Prepping Atlantis
Complete Space Shuttle Mission Coverage
NASA's STS-115: Shuttle Atlantis to Jump Start ISS Construction
The Great Space Quiz: Space Shuttle Countdown