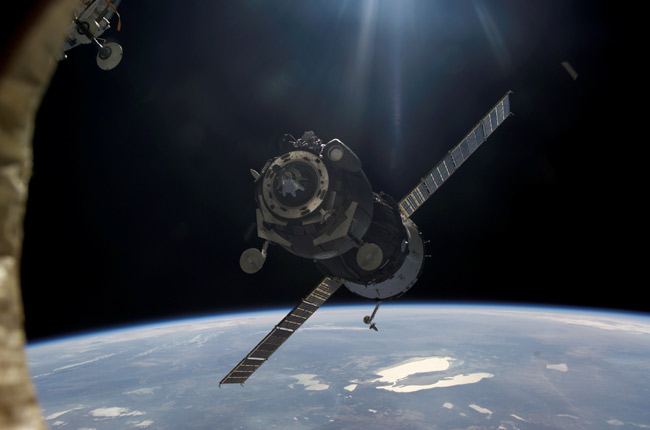 WASHINGTON — NASA now has the legal ability to conclude a new deal with Russia for the three-person Soyuz vehicles it will need to ensure U.S., Canadian, European and Japanese astronauts can fly to the International Space Station beyond 2011.
The permission to move ahead with a new deal with Russia was included in a massive temporary spending measure U.S. President George W. Bush signed into law Sept. 30 to keep the government operating at current spending levels until March.
NASA has been prevented from negotiating a new Soyuz deal by a 2000 weapons proliferation law that bars buying space station-related goods and services from Russia so long as its aerospace companies continue to aid Iran.
While the U.S. Congress granted NASA temporary relief from the Iran-North Korea-Syria Nonproliferation Act (INKSNA) in 2005, that only cleared the way for NASA to conclude a $700 million-plus deal with Russia for periodic Soyuz and unmanned Progress re-supply flights to the International Space Station through 2011.
With the U.S. space shuttle due to retire in 2010 and its NASA-designed successor, the Orion Crew Exploration Vehicle and Ares I rocket due to enter service before 2015, NASA officials have been pressing U.S. lawmakers all year to grant a new waiver.
Attempts to amend INKSNA through a stand-alone bill that would have limited NASA's post-2011 Russian spacecraft purchases to crewed Soyuz vehicles faltered after Russia invaded neighboring Georgia in August. Shortly after the invasion, the bill's main congressional proponent, U.S. Sen. Bill Nelson (D-Fla.) declared chances of passage all but dead.
A series of last minute developments, however, combined to help win NASA the Soyuz waiver agency officials argued it desperately needed if the United States wished to continue to use the $100 billion space station beyond 2011. On Sept. 22, the INKSNA issue was given new prominence when Democratic presidential candidate Barack Obama, a senator from Illinois, wrote House and Senate leadership urging passage. The next day, the Senate Foreign Relations Committee, normally chaired by Obama's running mate Sen. Joseph Biden of Delaware, approved the International Space Station Payment Act of 2008 (S. 3103), clearing the bill for the full Senate's approval.
That particular bill, which would have limited NASA's authority to buy Soyuz vehicles, went no further. Instead a simple extension of the current waiver was included in a massive temporary spending measure, known as a continuing resolution, that the House of Representatives passed Sept. 24 by a vote of 370-58. The Senate followed suit Sept. 27, clearing the way for the Consolidated Security, Disaster Assistance and Continuing Appropriations Act for 2009 (H.R. 2638) to be signed into law by Bush.
In addition to permitting NASA to buy Soyuz and Progress spacecraft through 2016, the bill also keeps most federal agencies funded at their 2008 levels for the first five months of the new budget year, which began Oct. 1.
NASA officials have been bracing for months for having to get buy without a budget increase for all or part of 2009. NASA's 2008 budget was $17.3 billion.
Video - NASA's Constellation Journey Begins: Part 1, Part 2

Video - Back to the Moon with NASA's Constellation