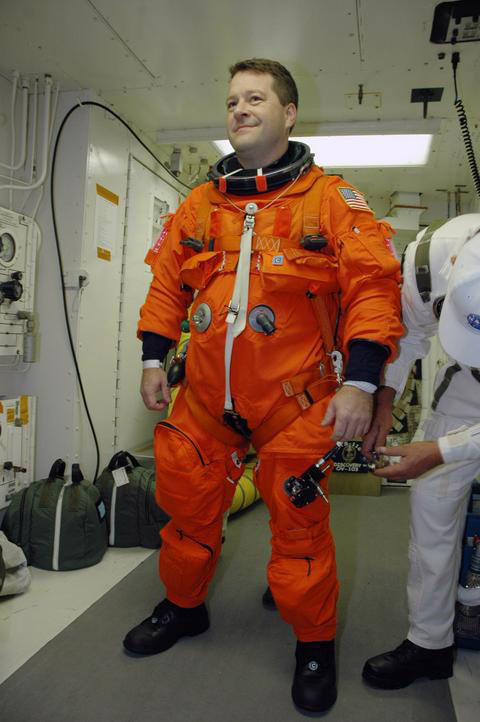 Two astronauts poised to make their first spaceflight aboard NASA's shuttle Discovery this week have an orbital ballet of robotics awaiting them in space.
Astronauts Nicholas Patrick and Joan Higginbotham are set to launch aboard Discovery Thursday at 9:35:47 p.m. EST (0235:47 Dec. 8 GMT) on a construction mission to the International Space Station (ISS).
Both experienced engineers, Patrick and Higginbotham will wield robotic arms aboard Discovery and the ISS to help spacewalkers install a new piece of the outpost--the Port 5 (P5) truss--and bring the station's primary power and thermal systems online.
"It's a busy, fun-packed mission from a robotics point of view," Patrick said in a preflight interview.
Patrick will be the prime operator of Discovery's robotic arm during the 12-day STS-116 mission, while Higginbotham will control the space station's mechanical manipulator alongside fellow STS-116 crewmate Sunita Williams.
An engineer-pilot before NASA
Reaching space has been a lifelong goal for Patrick since age five, when he watched NASA Apollo 11 astronauts walk on the Moon in 1969.
"I remember exactly where I was, watching it with my parents," Patrick, now 42, said in a NASA interview. "And from that point on, I decided I wanted to be an astronaut."
The day after Thursday's planned launch, the duty falls primarily on Patrick to use Discovery's robotic arm and a 50-foot (15-meter) sensor-laden boom to scan the spacecraft vital heat shield for any signs of damage. But while the inspection will help shuttle engineers determine the health of Discovery, it's all in a day's work for Patrick, who holds the Mission Specialist-1 slot on the STS-116 crew.
"I think of it as a simple job to do, moving the arm around in the right sequence at the right time," Patrick said in a preflight interview, adding that image analysts on Earth--who must actually study the images--have the hard part.
Born in the United Kingdom, Patrick grew up in London and later earned a Ph.D. in mechanical engineering from the Massachusetts Institute of Technology (MIT). Flying was a passion for him long before he joined NASA's astronaut corps in 1998, and he has flown both as a private pilot and later as a flight instructor.
"Flying obviously is a wonderful thing to do to prepare yourself for spaceflight," said Patrick, who is married and has logged more than 1,900 hours flying various aircraft. "I think those experiences have really helped me hone my operational skills."
The ocean, Patrick said, is another way to prepare. In July 2004, he participated in NASA's 10-day NEEMO 6 mission to the Aquarius laboratory on the floor of the Atlantic Ocean, just off the Florida Keys. But while diving underwater is about the closest you can get to floating in space on Earth, it is an orbital view Patrick is waiting for.
"I'm hoping to come back with a more visual sense of how small and isolated the Earth is," adding that he is especially hopes to take some time to look out Discovery's windows and see an Earth devoid of political boundaries that define our terrestrial maps. "I'm sort of looking forward to looking at an apolitical Earth."
From spaceport to space
Unlike Patrick, Higginbotham began her engineering career at NASA but did not make the immediate jump to the astronaut corps. In 1987, she began work as a payload electrical engineer at NASA's Kennedy Space Center spaceport.
"My career plan originally did not include becoming an astronaut," Higginbotham, 42, said in a NASA interview, adding that she applied to the astronaut ranks after a supervisor kept suggesting it. "I guess he just saw something in me that he thought I would make a great astronaut," she said later.
A native of Chicago, Illinois, Higginbotham first met her STS-116 crewmates Robert Curbeam and Mark Polansky--the flight's commander--during her first round as an astronaut applicant, but it was only after a second attempt and a second Master's degree that she joined NASA's spaceflyer ranks in 1996. She enjoys motivational speaking and draws discipline from hobbies such as bodybuilding.
Higginbotham and Curbeam are making a bit of history with the STS-116 mission. Their flight marks the first time two African-American astronauts have flown in space together, though Higginbotham will remain only the third African-American woman to fly in space.
"I don't necessarily tie a significance to that only because when the missions were first assigned...I was actually assigned to 117 so we were actually on missions back to back," Higginbotham said in an interview, adding that actually flying in space--not statistics--is likely to grab the public's attention more. "If they see something they want to emulate, than that's a wonderful thing."
In addition to her role as ISS robotic arm operator Higginbotham--STS-116's Mission Specialist-4--also serves as Discovery's loadmaster, and will oversee the transfer of thousands of pounds of cargo between the two spacecraft.
"I am also in charge of deploying some small satellites once we undock from the space station," she added.
With only days remaining until her planned launch, Higginbotham concedes that her upcoming spaceflight seems more real than ever.
"I always thought they were 'those guys' who flew," she said. "But, you know, I guess I'm one of those guys."
STS-116 VIDEO: Major Tasks
IMAGES: Shuttle Discovery Poised for STS-116
STS-116 VIDEO: Power is Everything
Complete Space Shuttle Mission Coverage
STS-116 VIDEO: Back in Business
Mission Discovery: The ISS Rewiring Job of NASA's STS-116
STS-116 VIDEO: Building Blocks
The Great Space Quiz: Space Shuttle Countdown
All About the Space Shuttle