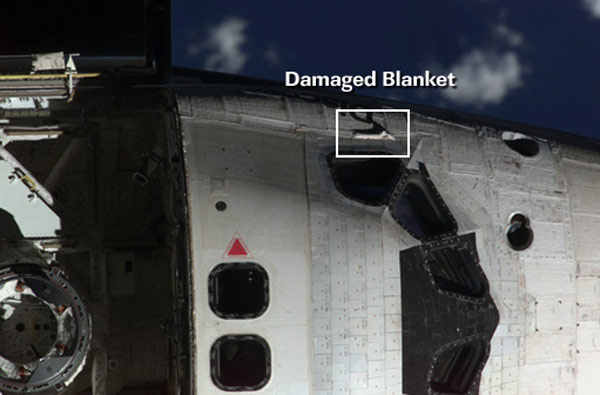 HOUSTON - NASA engineers are working through the night to replicate the type of thermal blanket damage afflicting Discovery, sending three different samples through wind tunnel tests to determine if the fabric could rip off during reentry and strike the vehicle, mission managers said late Wednesday.
The blanket, a small quilt-like material glued to the orbiter just under a left-side window, came partially loose during launch and poses no danger to the shuttle from a heating standpoint, shuttle officials have said. But engineers are unsure about its status as a potential debris source during reentry, when the shuttle flies through the atmosphere at faster-than-sound speeds.
"We're not going to leave any stone unturned at this stage," NASA's deputy shuttle program manager Wayne Hale said during evening press briefing here at Johnson Space Center. "We want to make sure that this doesn't do any serious damage."
Earlier today, STS-114 lead spacewalk officer Cindy Begley said discussions for a potential fourth spacewalk to address the blanket - should it be needed - are ongoing, with possible fixes ranging from removing the material entirely using scissors or ventilating it with slashes so it is less likely to inflate and shear off.
The damaged blanket runs about 20 inches (50 centimeters) in length, though only about eight inches (20 centimeters) of the 3.8-inch (9.6-centimeter) wide material is puffed out, shuttle officials said.
"Worst case is we could do some structural damage," Hale said.
Engineers predict that should the small blanket shed material during reentry, the largest piece should weigh only 0.05-pounds (0.02 kilograms), though the type of damage that might inflict - if any - is unclear, shuttle officials said.
In 1984, a heater glitch in a water dump nozzle during NASA's STS-41B mission aboard Challenger led to the build-up of a four-pound (1.8-kilogram) ice ball along the side of the orbiter that broke off during reentry as the shuttle was flying at about Mach 4.5, Hale said. The ice ball damaged the shuttle's tiles and skin of an Orbital Maneuvering System (OMS) pod, but the orbiter landed safely, he said.
Hale said that orbiter thermal blankets did suffer fraying during early shuttle flights, but that the problem was overcome with the development of a new coating material. The problematic blanket on Discovery has been repaired, but that fix is holding and not the source of its damage, he added.
The thermal blanket is the final outstanding piece of Discovery's heat shield before mission managers can clear the orbiter for landing.
The orbiter's heat tiles were passed with the conclusion of today's early-morning spacewalk to remove two gap-fillers from Discovery's undercarriage. The reinforced carbon carbon panels lining its wing leading edges were cleared Tuesday.
Meanwhile, Discovery's crew is completing their resupply mission at the International Space Station (ISS).
"We are bringing the space station up to about maximum capacity on all of its needs," Hale said.
So far the nine astronauts have unloaded all of the tons of cargo the brought to the ISS inside the Italian-built Raffaello cargo module. The work to load more tons of trash, obsolete equipment and other unneeded items is about 75 percent complete, NASA officials said.
Discovery's STS-114 astronauts are set to return to Earth on Aug. 8.
Fixing NASA: Complete Coverage of Space Shuttle Return to Flight