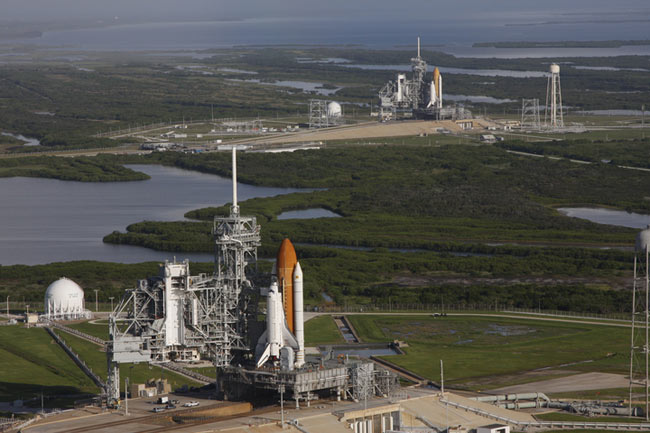 The space shuttle Endeavour is set to blast off two days early next month while engineers on Earth continue to study a Hubble Space Telescope glitch that added months of delay to a separate orbiter flight, NASA officials announced Friday.
Endeavour is now slated to launch toward the International Space Station on Nov. 14 at 7:55 p.m. EST (0055 Nov. 25 GMT) on a mission to deliver a new crew member, fresh supplies and equipment to support larger, six-person crews aboard the orbiting laboratory.
The mission was initially scheduled to lift off on Nov. 16, but shuttle managers said Monday that an earlier flight might be possible after they delayed the planned Oct. 14 launch of the Atlantis orbiter due to glitches with its target — the Hubble Space Telescope.
?There is very little opportunity for us to accelerate that [further],? said John Shannon, NASA?s shuttle program manager, earlier this week.
Endeavour is currently perched atop the seaside Launch Pad 39B at NASA?s Kennedy Space Center spaceport in Cape Canaveral, Fla., where it was slated to serve as a rescue ship for astronauts headed to overhaul the Hubble Space Telescope this month aboard the shuttle Atlantis.
But a serious glitch with Hubble on Sept. 27 forced NASA to delay the servicing flight to early 2009. The spare parts and new instruments to be installed during that mission will be plucked from Atlantis? cargo bay on Oct. 13, with the shuttle leaving its Pad 39A launch site at KSC on Oct. 20 for the shelter of NASA?s cavernous Vehicle Assembly Building.
Endeavour, then, will move from Pad 39B to the nearby Pad39A on Oct. 25 for its planned Nov. 14 space shot, mission managers said.
Commanded by veteran shuttle flyer Chris Ferguson, Endeavour?s STS-126 mission will ferry NASA astronaut Sandra Magnus to the space station to join the orbiting lab?s Expedition 18 crew. Endeavour will also deliver new sleeping quarters, a water recycling system, second space toilet, exercise equipment and other supplies. Magnus will replace NASA astronaut Gregory Chamitoff, who has lived aboard the space station since June.
Trouble with Hubble
While NASA prepares Endeavour for flight, the Hubble Space Telescope will have wait another week before resuming its science duties in the wake of a debilitating glitch to allow engineers more time to analyze a tricky switch to a backup system.
Hubble has been unable to relay data and images back to Earth since Sept. 27, when a channel responsible for transmitting observations to its control center failed.
The channel, Side A of a device called a Control Unit/Science Data Formatter, failed after operating through the 18 years since Hubble?s launch in 1990.
The space telescope does have a backup, Side B, but switching Hubble?s system to that channel also requires moving five different support systems to the new string. Engineers are also studying a replacement unit on Earth to see if it can be launched to Hubble and installed to revive Side A for redundancy.
?I think people just want to understand what?s involved,? said NASA spokesperson Ed Campion at the agency?s Goddard Space Flight Center in Greenbelt, Md., home to Hubble?s mission control. ?At the same time, they?ll continue work on the ground with the spare unit.?
Hubble managers hope to make a final decision on how best to make the systems switch on Friday, Oct. 10.
Video - Hubble's Last Service Call

Video - Hubble Service Mission 4 Countdown

Hubble Images - When Galaxies Collide