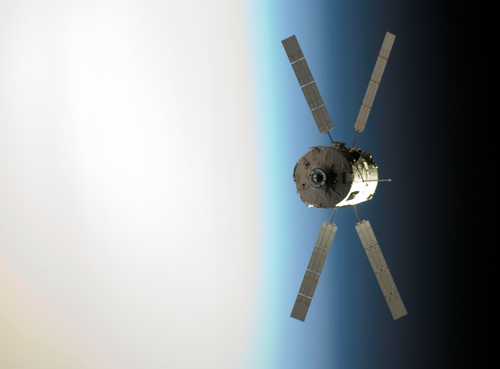 Europe?s first unmanned cargo ship is poised to make its inaugural docking at the International Space Station (ISS) Thursday after two successful dress rehearsals.
Following weeks of shakedown tests, the European Space Agency?s (ESA) automated cargo ship Jules Verne is due to dock at the space station at about 10:40 a.m. EDT (1440 GMT), with the outpost?s three-person crew keeping a watchful eye on their incoming visitor.
?We obviously want to keep close tabs on it as it approaches,? station commander Peggy Whitson told reporters in a recent interview.
About the size of a London double-decker bus, the 21-ton Jules Verne spacecraft is the first of ESA?s new fleet of Automated Transfer Vehicles (ATVs) to rendezvous with the ISS. Tucked aboard the orbital freighter are manuscripts written by its namesake, the 19th century science fiction writer Jules Verne, and a fresh load of supplies for the station?s Expedition 16 crew.
The Jules Verne ATV is about 32 feet (10 meters) long, 15 feet (4.5 meters) wide and can carry about three times the 2.5-ton cargo shipments delivered to the ISS by unmanned Russian Progress vehicles. ESA officials have said it will be the largest cargo carrier to the station once NASA?s space shuttle fleet retires in 2010. If today?s docking is unsuccessful, a second attempt could be made on Saturday, they added.
NASA?s deputy ISS program manager Kirk Shireman told reporters Wednesday that Jules Verne?s planned orbital arrival today has sparked excitement among flight controllers at the U.S. agency, as well as their counterparts in Europe and Russia.
?It?s really been exciting?a great time to be part of the space station program,? Shireman said.
Jules Verne launched into orbit on March 8 (ET) from Europe?s South American-based spaceport in Kourou, French Guiana. The spacecraft spent several weeks in orbit performing a series of intricate collision avoidance maneuvers before catching up to the space station, where NASA?s shuttle Endeavour astronauts were hard at work adding a Japanese room and Canadian robot to the orbiting lab.
After waiting patiently for Endeavour?s departure last week, Jules Verne?s flight control team at the ESA?s dedicated ATV Control Center in Toulouse, France, ordered the autonomous spacecraft to make two approaches to the ISS that tested its video and laser-based rendezvous system.
A successful March 29 rendezvous parked the spacecraft at a waypoint about 2 miles (3.5 kilometers) from the station. That test was followed by a closer approach on Monday, where Jules Verne hovered just 36 feet (11 meters) from the aft docking compartment of the station?s Russian-built Zvezda service module. Malenchenko and Whitson successfully commanded Jules Verne to back away from the station using their only means of control over the spacecraft, a red button reserved for emergencies if the vehicle strays off course, to end the Monday demonstration.
?They successfully passed the tests,? said Holly Ridings, NASA?s lead Expedition 16 flight director, on Wednesday. ?It was very close to the space station, hovering right behind the service module aft of where it will dock.?
Russia?s space station Mission Control Center in Korolev, outside Moscow, and its NASA counterpart in at the Johnson Space Center in Houston will also be watching over today?s docking attempt.
NASA will provide live coverage of the Jules Verne ATV?s space station docking on NASA TV beginning at 8:00 a.m. EDT (1200 GMT). Click here for SPACE.com?s ISS mission coverage and NASA TV feed.
NEW VIDEO: Space Freighter ?Jules Verne? Launches into Orbit