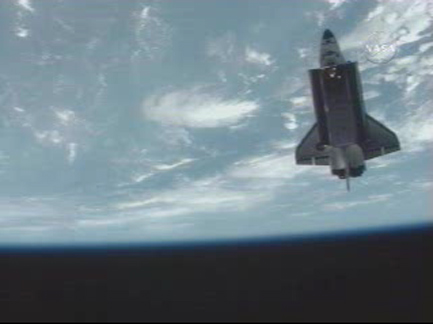 HOUSTON -- Astronauts aboard NASA?s shuttle Atlantis scanned their heat shield for a second time Tuesday as engineers on Earth pondered a bit of debris seen during the orbiter?s departure earlier from the International Space Station (ISS).
Atlantis? STS-117 crew inspected vital heat-resistant panels along the shuttle?s wing edges and nose cap for damage by micrometeorites and orbital debris late Tuesday, but at first look the scan showed no obvious signs of change from an earlier survey, shuttle officials said.
Cathy Koerner, NASA?s lead STS-117 shuttle flight director, said image analysts will study the images overnight to ensure Atlantis? heat shield is still clear for a planned Thursday landing. Mission managers initially cleared the orbiter of any concern related to debris shed during its June 8 launch last week pending the now-standard late inspections.
NASA analysts are studying a white object that appeared to drift from the ISS in video taken by a camera aboard Atlantis well after the shuttle had cast off from the orbital laboratory to determine if it actually emanated from the station or is merely small bit of debris near the orbiter.
?The early analysis is that it?s probably something that came from the orbiter since the orbiter was moving away,? NASA?s ISS program manager Mike Suffredini said, adding that image analysts are studying additional video from Atlantis just to be sure. ?Which makes it a very small object.?
If it came from the space station, the object would be larger due to the distance between the outpost and Atlantis, and resembled a blanket-like material in video from the shuttle, Suffredini said. The ongoing study is a mark of due diligence since the object was clearly visible in video from the undocking, but it is not thought to be a concern, he added.
Koerner added that ice is a typical companion near the shuttle during orbital maneuvers as exhaust water freezes, and said it is not uncommon for small objects to fly near orbiters in space.
Last September, a number of small objects spotted floating nearby Atlantis by its STS-115 crew prompted additional inspections and a landing delay, but no damage or other concerns were ultimately found.
Atlantis undocked from the ISS at 10:42 a.m. EDT (1442 GMT) after a busy construction flight to the orbital laboratory.
Commanded by veteran shuttle flyer Rick Sturckow, the STS-117 installed new power-generating solar arrays and their 17.5-ton truss segments to the station?s starboard side, furled an older solar wing and stapled a loose blanket down to Atlantis? left engine pod during the course of four spacewalks. The mission also featured a one-astronaut swap for the station?s Expedition 15 crew.
Atlantis is slated to return to Earth Thursday, with landing set at 1:54 p.m. EDT (1754 GMT) at NASA?s Kennedy Space Center in Cape Canaveral, Florida.

NASA is broadcasting the space shuttle Atlantis' STS-117 mission live on NASA TV. Click here for mission updates and SPACE.com's video feed.
SPACE.com Video Interplayer: Space Station Power Up with STS-117

IMAGES: Atlantis Shuttle?s STS-117 Launch Day

Complete Shuttle Mission Coverage