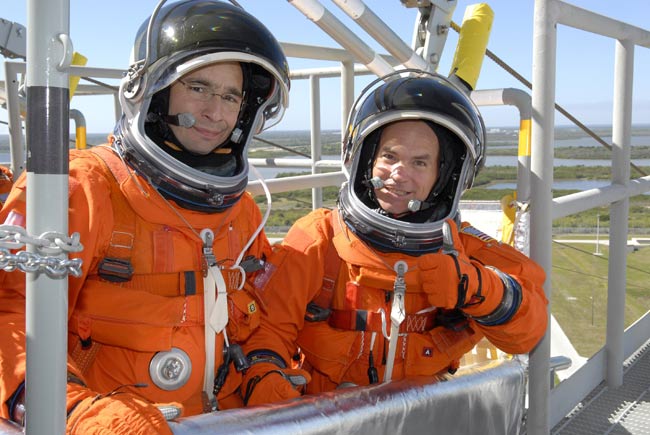 A former off-road racer-turned-spaceship commander and a U.S. Air Force test pilot are ready to guide NASA's shuttle Atlantis to the International Space Station (ISS).
Veteran shuttle astronaut Rick "CJ" Sturckow is commanding Atlantis' shuttle mission to deliver new solar arrays to the ISS with first-time spaceflyer Lee "Bru" Archambault in the pilot's seat. The two astronauts and their STS-117 five crewmates are due to launch spaceward June 8 from NASA's Kennedy Space Center in Cape Canaveral, Florida.
"I think the number one thing I'm looking forward to is getting the job done," Sturckow told reporters in a preflight interview. "I look forward to getting up there again."
From off-road to off-planet
A colonel in the U.S. Marine Corps, Sturckow hails from Lakeside, California, where he grew up on a nearby ranch with his family to raise turkeys, cattle and, eventually, trees.
"It was a pretty, small, rural town at the time," Sturckow, 45, said of his hometown, views of which he's caught from space during past missions along with the rest of California and Baja California. "I used to race down there. I was able to see all that from orbit. It was beautiful."
In fact, it was racing that put Sturckow on the path to space. At age 16, he started work as a truck mechanic and lube boy, then graduated to off-road and stock car racing in a car he built while at California Polytechnic State University in San Louis Obispo where he earned a bachelor's of science degree in mechanical engineering.
A Marine Corps pilot-turned university professor suggested Sturckow's talents would prove useful should he join the Marines as a pilot.
"And I did. It's been great," Sturckow said.
Sturckow has logged more than 4,790 hours in over 50 different aircraft and flew 41 combat missions during Operation Desert Storm in 1990. He earned his test pilot wings in 1992 before moving to Houston and NASA, and is married to wife Michele.
An avid flyer with an interest in physical training, Sturckow joined NASA's astronaut ranks in 1994 and to-date has spent about 24 days working in space.
"I think that the human exploration is very important to maintain the interest of all of us Americans in space exploration," Sturckow has said. "It's great to send robots and orbiters and do some limited surface exploration, but till you put a human on that other body, you're not going to know what it's really like there."
Sturckow is veteran of two ISS-bound shuttle flights -- including Endeavour's STS-88 mission in 1998, the first orbiter flight dedicated to station construction -- where he served as pilot. His second flight, STS-105 aboard Discovery, launched ferried cargo and a new crew to the ISS in 2001.
Atlantis' STS-117 flight, however, marks Sturckow's first mission as commander and he has applied lessons learned under his past commanders to meet the task.
"It's about the people, and understanding what their job is and who to ask for different kinds of help," Sturckow said of a shuttle commander's role.
The Atlantis commander added that he hopes NASA's plans for future Moon missions lead to permanent settlements beyond Earth orbit.
"I'd love to see in my lifetime a lunar colony established," Sturckow said in a NASA interview. "Not just a small station but a real group of people that are living and working toward that next goal and the next step beyond."
Test pilot aims for orbit
While Sturckow is gearing up for his third trip to space, Archambault is eagerly looking ahead to his first shuttle flight to orbit.
A U.S. Air Force colonel by training, Archambault will serve as both shuttle pilot and orbiter robotic arm operator during Atlantis' STS-117 mission. He holds bachelor's and master's degrees in aeronautical and astronautical engineering from the University of Illinois-Urbana, and has three children with wife Kelly Renee.
Archambault, 46, joined the U.S. Air Force in 1985 and flew a number of aircraft including the F-117A Stealth Fighter, in which he flew 22 combat missions between 1990 and 1991 during the Gulf War. He later served as an instructor pilot and test pilot to aid aircraft weapons development before joining NASA's astronaut ranks in June 1998.
"It's been a long time, and we're certain it's going to be worth the wait," Archambault told reporters of the upcoming launch in a preflight interview.
Archambault's interest in NASA and spaceflight is rooted in his home town of Bellwood, Illinois, the same city where Eugene Cernan -- the last astronaut to walk on the Moon in 1971 -- grew up.
"He generated a lot of interest in the space program in our home town," Archambault said in a NASA interview. "I have to believe that a lot of my personal interest in the space program came from growing up in Bellwood where Eugene Cernan was the main deal back in the 1960s and 1970s."
There is inherent risk in human spaceflight, but Archambault stressed that police officers, firefighters and U.S. soldiers currently engaged overseas face dangerous jobs on a daily basis, which puts his own mission challenges in perspective.
"You know, I don't think about the danger part of it too often," Archambault said. "If we're going to continue to be who we are as Americans and explore beyond the confines of our country, beyond the confines of our world, we're going to have to take some risk."
That risk, Archambault believes, is worth the effort of NASA and its partners to complete the International Space Station's construction push further outwards back towards the Moon.
"It's an honor to be here and simply put, that's all I can say on that," Archambault said. "We're going to leave this planet; we're going to go back to the Moon."
STS-117 Power Play: Atlantis Shuttle Crew to Deliver ISS Solar Wings

Complete Shuttle Mission Coverage

All About the Space Shuttle