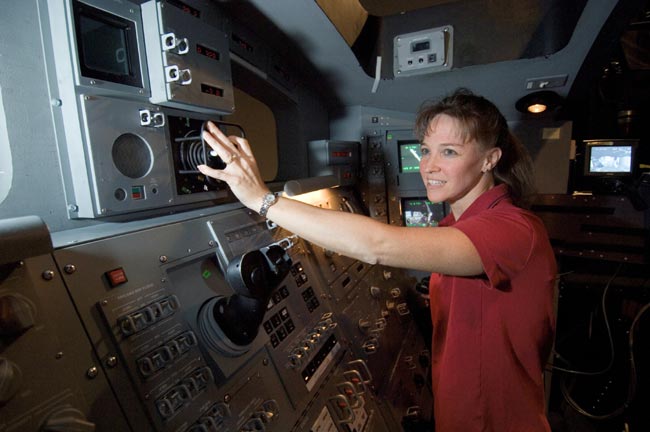 CAPE CANAVERAL, Fla. - Orange County Circuit Court officials scheduled a pretrial hearing in the case of former astronaut Lisa Nowak.
Judge Marc Lubet will preside over a status hearing in the case at 9:30 a.m. June 22.
Prosecutor Pam Davis and defense attorney Donald Lykkebak are expected to report to the judge their readiness for the trial to begin.
Nowak is charged with attempted kidnapping, battery and attempted burglary with assault.
Authorities said Nowak drove from Houston to Orlando International Airport in February 2007 to confront Air Force Capt. Colleen Shipman about their mutual love interest, then-astronaut Bill Oefelein. Shipman was returning from a trip to visit Oefelein.
Investigators said Nowak, a Navy captain, confessed to pepper-spraying Shipman while asking to get into her car at about 3 a.m. in the airport's blue parking lot.
Nowak allegedly told a detective pepper-spraying Shipman was "stupid."
Lubet disallowed Nowak's statement to police, as well as evidence found in her car, to be used at trial.
The state appealed that decision.
In December, the 5th District Court of Appeal in Daytona Beach upheld excluding Nowak's statement, but allowed back into the case evidence found in her car, which included Internet maps from Houston to Orlando International Airport, a hand-drawn map to Shipman's house and a letter from Nowak to Oefelein's mother.
Nowak and Oefelein, a U.S. Navy commander, both were fired from NASA as astronauts following the incident. In addition, NASA overhauled its psychological screening for the astronaut corps.
Nowak remains in the U.S. Navy, serving as a captain in flight training at Naval Air Station Corpus Christi in Texas.
Oefelein and Shipman left the military, and records show they possibly are living together in Alaska.
"We're just glad things are moving along, and hopefully we'll get some resolution soon," said Shipman's attorney, Kepler Funk.
Published under license from FLORIDA TODAY. Copyright ? 2009 FLORIDA TODAY. No portion of this material may be reproduced in any way without the written consent of FLORIDA TODAY.