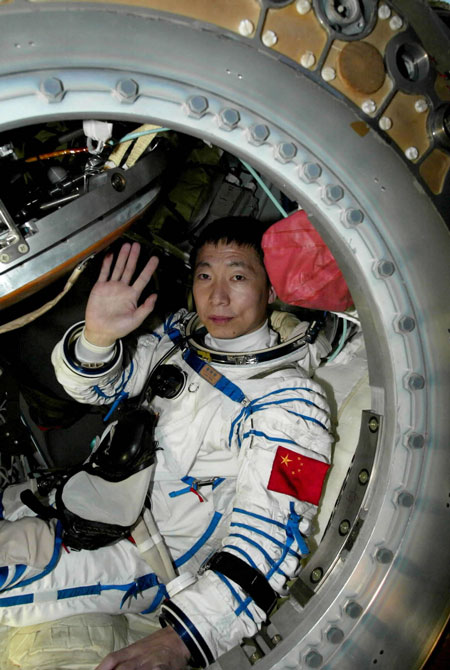 China is paring down the list of astronauts to fly aboard its second manned spaceflight, a two-person mission set to launch within weeks, state news reports said Wednesday.
Several two-astronaut teams have been selected from a candidate field of 14 former fighter pilots, though the final decision will depend on how they perform in upcoming tests, Zhang Qingwei, president of the China Aerospace Science and Technology Corp., told the Shanghai Morning Post. The state run Xinhua News Agency later reported the announcement.
"The launch of Shenzhou 6 spacecraft could be in September or October," Zhang told the Shanghai Morning Post, adding that a flag for the 2010 World Expo in Shanghai will be included on the flight.
According to earlier reports, a Long March2F rocket is slated to launch two Chinese astronauts, also known as "taikonauts," on a five-day to six-day mission to conduct experiments aboard Shenzhou 6. One such experiment will apparently study the effects of microgravity and space radiation on pig sperm, Xinhua reported.
The two-person flight will follow the Oct. 15, 2003 launch of Shenzhou 5, which carried astronaut Yang Liwei into orbit and made China one of only three countries to independently launch a human into space. Russia and the U.S. are the others.
Tucked inside his Shenzhou 5 capsule, which is based on Russia's Soyuz spacecraft but extensively modernized, Yang orbited Earth 14 times during his 21 1/2-hour spaceflight before returning safely.
Chinese space officials have said in the past that the Shenzhou flights will test technologies that will lead toward docking and, ultimately, space station hardware. The Chinese National Aerospace Administration hopes to land a probe on the moon by 2010, according to past reports.
Preparing for the future
As China counts down to its second manned Shenzhou flight, plans are already underway for an extended human spaceflight program.
In Shanghai, construction began Tuesday on a new $160-million space center to be devoted to researching, testing and producing rockets, manned spacecraft and defense satellites, the Shanghai Space Bureau told Xinhua. Five research institutes will be based at the new center's 183-acre site, the report stated.
Meanwhile, China has also begun training its first group of female astronauts this year.
According to Xinhua reports, 35 women between the ages of 17 and 20-years-old were recruited for the country's female astronaut program.
At least four years of university courses, as well as flight and science training, will be required before any of the candidates fly, though Chinese space officials hope to launch their first female astronauts by 2010.
"They will embark on a space mission no later than 2010, working as flight commanders or on-board engineers," Hu Shixiang, deputy chief of commander of China's manned space program, told China Daily during the announcement.
Making History: China Launches its First Piloted Spaceflight