A massive eruption on the sun Friday (March 15) unleashed a wave of intense solar particles at Earth that may spark a geomagnetic storm and boost weekend aurora displays.
The Earth-directed solar storm occurred Friday at 2:54 a.m. EDT (0654 GMT) in what astronomers call a coronal mass ejection — or CME — a sun eruption that can release billions of tons of solar material into space. The particles typically take between one and three days to reach Earth, where they can pose a hazard to satellites and electronic systems in orbit and on the planet's surface, NASA officials said in a statement.
The solar particles from the Friday eruption were expected to reach Earth today (March 17).
"High-latitude and possibly even middle-latitude sky watchers should be alert for auroras this weekend," the website Spaceweather.com, which tracks space weather and stargazing events, said in a weekend alert. [Amazing Auroras Photos of 2013]
The Friday sun eruption sent a wave of solar particles streaking toward Earth at about 900 miles per second, according to observations by NASA and European spacecraft. That is the equivalent of a mind-boggling about 3.2 million miles per hour (5.2 million km/h).
According to NASA, this "is a fairly fast speed for CMEs. Historically, CMEs at this speed have caused mild to moderate effects at Earth."
The solar eruption should not pose a threat to satellites and spacecraft around Earth, but it may pass NASA's Messenger spacecraft orbiting Mercury and the infrared Spitzer Space Telescope, agency officials said. NASA alerted the mission operation centers for both missions.
"There is, however, only minor particle radiation associated with this event, which is what would normally concern operators of interplanetary spacecraft since the particles can trip on board computer electronics," NASA officials said.
An alert by the Space Weather Prediction Center operated by the National Oceanic and Atmospheric Administration reported that the Earth's geomagnetic field could be at "unsettled to major storm levels" once the CME particles reached Earth Sunday. There was a 70 percent chance of a geomagnetic storm today, the Spaceweather.com alert added.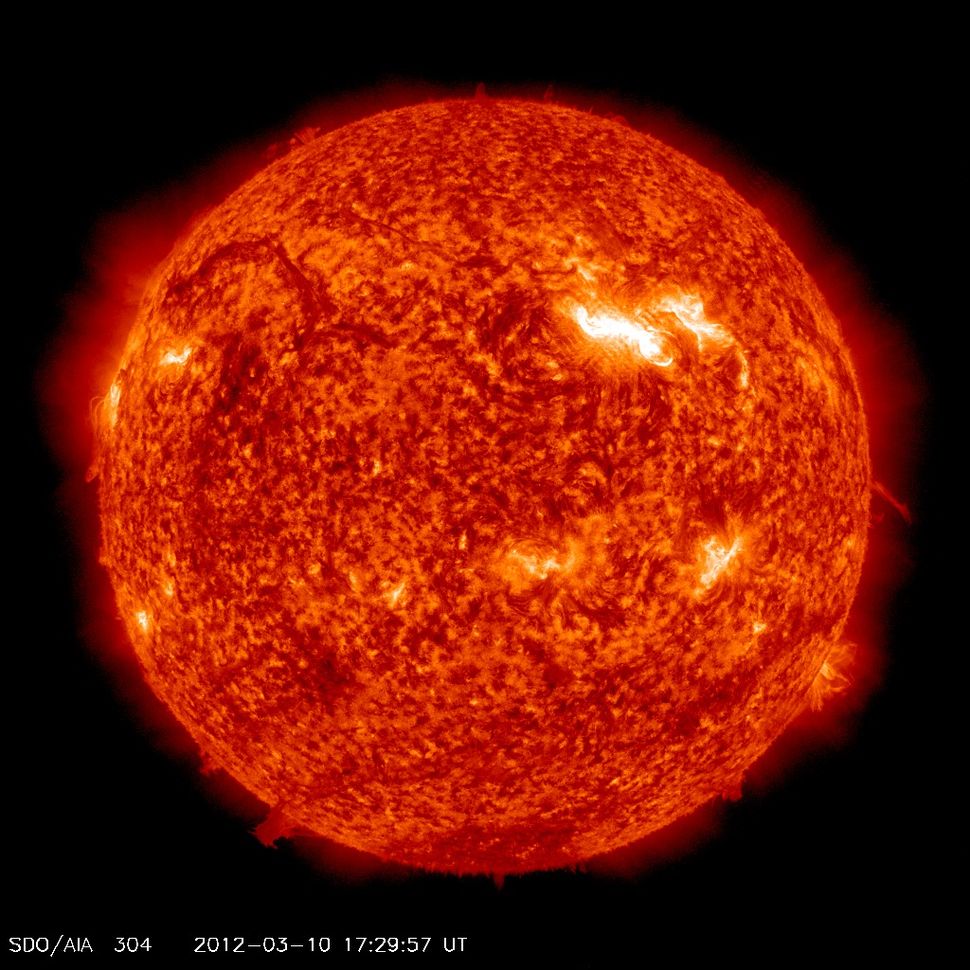 When the sun fires off an eruption in Earth's direction, the charged solar particles that reach the planet are funneled to the Earth's poles by its magnetic field. When the particles interact with the Earth's atmosphere, they can cause a glow visible from the ground: the northern lights.
Northern lights displays over the North Pole region are known as the aurora borealis. Their southern counterpart is known as the aurora australis.
The sun is currently in the midst of an active phase of its 11-year solar weather cycle and is expected to reach its peak activity in 2013.
Editor's note: If you snap an amazing photo of the northern lights in the night sky, or any other celestial object, and you'd like to share for a possible story or image gallery, please send images and comments, including location information, to managing editor Tariq Malik at spacephotos@space.com.
Email Tariq Malik at tmalik@space.com or follow him @tariqjmalik and Google+. Follow us @Spacedotcom, Facebook and Google+. Original article on SPACE.com.