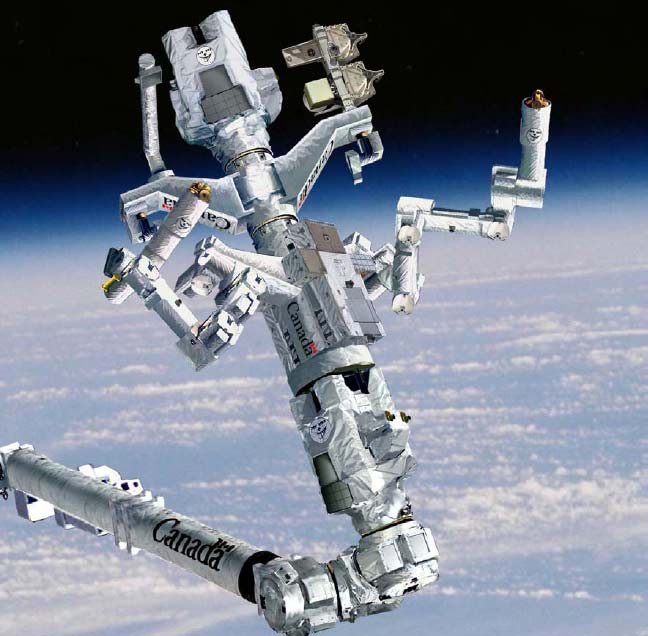 HOUSTON — Two spacewalking astronauts are set to venture outside the International Space Station (ISS) tonight for a marathon spacewalk to attach twin arms to a giant robot.
Space shuttle Endeavour astronauts Rick Linnehan and Mike Foreman will spend around seven hours in the vacuum of space installing the arms of Dextre, a 1.7-ton maintenance robot built by the Canadian Space Agency (CSA). The spacewalking duo's on-orbit construction work is scheduled to begin at 8:23 p.m. EDT (0023 GMT March 16).
Garrett Reisman, a space station flight engineer who helped Linnehan latch on Dextre's gripper-like hands during Wednesday's late-night spacewalk, said today is the big day for "Mr. Dextre."
"They're going to assemble almost the entire robot," Reisman told SPACE.com during an on-orbit interview Saturday morning. "The arms will go on, the shoulders will rise up out of the pallet and it's going to be really exciting."
Tonight's extravehicular activity, or EVA, will be the second of five planned for Endeavour's 16-day mission — NASA's longest planned flight to the ISS in history. The spacewalk itself will also be the longest of the mission at seven planned hours.
Strong arms
The spacewalkers' first task outside of the Quest airlock will be to remove protective covers and cables on Dextre's arms. Once removed, the two will be able to begin installing two seven-jointed limbs onto the robot's 12-foot (3.7-meter) body.
Linnehan will latch his feet onto the end of the space station's robotic arm, from which he'll pull Dextre's limbs from a pallet containing the robot's pieces. Each arm will then be temporarily attached to the outside of the pallet with Foreman's help.
Yet weighing in at a colossal 775 pounds a piece — as much as a full-grown moose — shuffling the 11-foot (3.4-meter) arms is no small feat.
"There's definitely some skill and technique they've had to develop to handle those loads," Zebulon Scoville, lead spacewalk officer for the STS-123 mission, said of the astronauts during a preflight briefing.
"Dextre will [then] be pivoted up 60 degrees, where he?ll snap into position," said Pierre Jean, program manager for the CSA's space station program.
In this position, Linnehan and Foreman will have enough clearance to install each giant arm. "This is when Dextre gives a 'V' for 'victory,'" Jean said of Dextre's completed 30-foot (9-meter) arm span.
Helper bot
Reisman said Dextre possesses human-like characteristics, and it's no accident.
"He's got two arms, a body, a head and he is designed to basically do the same things that we do on a spacewalk," Reisman said.
Using extremely touch-sensitive hands and lanky yet powerful arms, the Dextre robot will be able to unscrew, remove, stow, and replace components around the space station as small as a phonebook to as large as a phone booth.
Such abilities will limit the number of dangerous spacewalks astronauts perform outside the space station, Reisman added.
"He'll be a great helper for us," he said, noting that Dextre will also be able to fetch items around the space station and carry them to spacewalking astronauts. "He'll be able to set the scene for us, carry all the big bulky stuff that's hard for us to carry."
Powered up
Although Dextre's assembly has gone smoothly so far, a flawed cable in the robot's pallet cut off the flow of vital electrical power needed to warm its circuits in the cold of space.
With the robot's circuits in danger, engineers on the ground worked Thursday morning through late Friday evening to devise plans to route power into Dextre's many pieces. After a software upgrade failed to help, astronauts on board the space station grappled the robot's head Friday evening and successfully provided power to the robot's heaters.
"I think Dextre is doing much better today, much warmer than the last time I was out there with him," Reisman said. "What I look forward to most is seeing Dextre come to life."
Following tonight's spacewalk, set to wrap up around 3:28 a.m. EDT (0728 GMT) Sunday morning, three remaining EVAs remain. Linnehan and Foreman will work in pairs with mission specialist Bob Behnken to finish Dextre and install it, perform on-orbit experiments, test a goo gun-like heat shield repair device and stow Endeavour's sensor-tipped inspection boom on the space station for a later shuttle mission.
Endeavour and its seven-astronaut crew launched from Cape Canaveral, Fla., on March 11 and docked at the space station on March 13. The 100-ton orbiter is scheduled to make its return to Earth on March 26.
SPACE.com senior editor Tariq Malik contributed to this story from New York City.
NASA is broadcasting Endeavour's STS-123 mission live on NASA TV. Click here for SPACE.com's shuttle mission coverage and NASA TV feed.
NEW GALLERY: Launch Day for Shuttle Endeavour