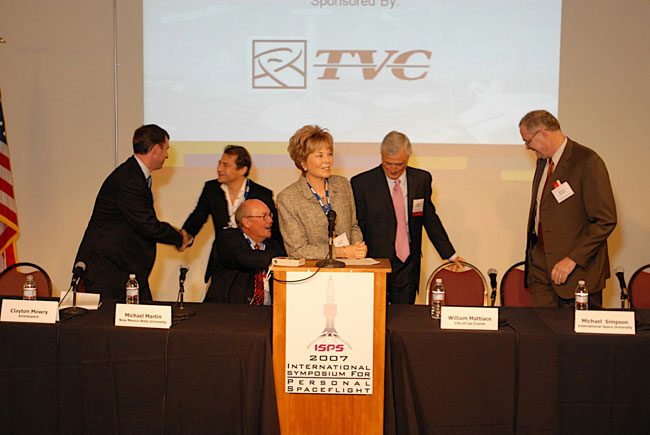 LAS CRUCES, N.M. – The business of commercial space travel is now far more than a promissory note – but significant challenges and dedicated work are ahead in shaping passenger spaceflight as profitable venture.
Experts outlined the coming years in public space travel, speaking here at the 2007 International Symposium for Personal Spaceflight (ISPS), highlighted by the theme: "Progress and Next Steps."
"Back in the 80s, when we were getting going ? we were new guys on the block trying to establish a foothold in business," said Clayton Mowry, President of Arianespace, Inc., with responsibility for managing Arianespace's customer, industry and governmental relations as the company's U.S. affiliate. "A lot of people were questioning our business structure ? how we were going to make money. But here we are today, over a billion dollar a year enterprise," he said.
Arianespace is the title sponsor of ISPS 2007 and has over 170 launches to its credit, Mowry noted. "We were a startup once," he added.
Mowry said that Arianespace sees the personal spaceflight sector as a new and exciting business. "We're here to kick the tires and see what's out there."
The suborbital market place is probably a stepping stone to larger markets out there, Mowry said.
Old versus new space
Not far from the symposium site, Spaceport America is to be planted in New Mexico. Construction of the spaceport is being plotted out, said William Mattiace, Mayor of the City of Las Cruces. He projected that the southern part of New Mexico expects to a "big, big player" not only in space industry but also in high tech research and development.
Mattiace said that the expectation is that many companies – both old and new arrivals – can add to turning dream into reality regarding commercial space operations.
Michael Simpson, President of the International Space University, contrasted "old space" with "new space". He explained that "accidents will happen" – in the pursuit of a vibrant personal spaceflight business.
"When human beings have done things important in their history, they have found that there were prices to pay," Simpson said. "We owe a lot to 'old space', and one of the things that we owe old space is to make sure that 'new space' builds something that the next new space can look back on and say, 'yes, that was a good foundation.'"
World market
"Space is a business," Simpson suggested, looking out into the audience. "This is a world market you're knocking on."
Some of that market will be based on suborbital and orbital flight, Simpson said. "Some of it is going to be the ability to democratize access to scientific experiments in space ? the ability to fly payloads that would otherwise wait 10 or 20 years for a government ride," he said.
Simpson said that there are a lot of opportunities out there, "and there are new opportunities being thought of all the time."
The next 50 years of personal spaceflight will take human society into space, Simpson concluded. "That's very good news for those of us who weren't built in the shape of a fighter pilot."
The key action item now is to create an economic engine behind personal space travel, said Peter Diamandis, Chief Executive Officer of the X Prize Foundation. "That's what we're trying to shoot for. We're not there yet. We are in this very critical phase that, if we stop ? it stops."
Something akin for space that's required, Diamandis said, is an "exothermic-economic reaction. We're not there yet, but given that situation, it's not stoppable."
Complete Coverage of the X Prize Cup

VIDEO: Will Pomerantz: What It Takes

VIDEO: Moon 2.0: Join the Revolution