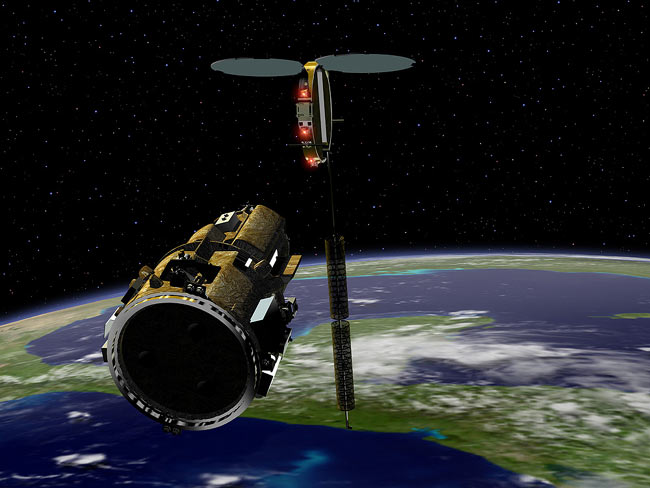 A software glitch, subsequent navigation errors and excessive fuel use led to the failure of an automated NASA spacecraft designed to rendezvous with a Pentagon satellite without human help last year, according to an investigation summary released late Monday.
In the 10-page summary, NASA investigators said the robotic DART spacecraft "repeated a pattern of excessive thruster firing in response to incorrect navigational data onboard..." leading to its failed rendezvous.
A lack of training and expertise among DART's design team also contributed to the spacecraft's failure, the investigation summary stated.
The summary wraps up a 70-page report by NASA's Mishap Investigation Board (MIB) that will not be released because the document contains sensitive material protected by the International Traffic in Arms Regulations (ITAR), NASA has said. A teleconference on the mishap summary with NASA's Marshall Space Flight Center engineer Scott Croomes, who chaired the MIB, is set for Tuesday at 2:00 p.m. EDT (1800 GMT).
The 800-pound (362-kilogram) DART spacecraft - short for Demonstration for Autonomous Rendezvous Technology - launched from California's Vandenberg Air Force Base on April 15, 2005 atop an Orbital Sciences-built Pegasus XL rocket. The spacecraft was expected to rendezvous with MUBLCOM, or Multiple Path Beyond Line of Site Communication; a small communications satellite launched for the U.S. military in 1999.
DART's $110-million mission called for the spacecraft to approach within 16 feet (five meters) of MUBLCOM and perform a series of intricate maneuvers near the older satellite, all without human intervention. The mission was to occur throughout a 24-hour period. But while DART ultimately found and approached the MUBLCOM satellite, it apparently closed to within 300 feet (91 meters) and ran out of fuel, bumping into the target spacecraft while both vehicles were 472 miles (760 kilometers) above Earth.
"Less than 11 hours into the mission, DART collided with MUBLCOM," the investigation summary states. "MUBLCOM did not appear to experience significant damage, and the impact actually pushed it into a higher orbit."
According to the mishap summary, DART's velocity measurements by its primary global positioning system (GPS) receiver were off by about 1.9 feet per second (0.6 meters per second), an inaccuracy that persisted in the spacecraft despite a computer reset because the needed software patch was never installed. DART's main computer repeatedly detected its velocity anomaly, reset itself, then again detected the same glitch, the summary stated.
An initial mismatch between expected and actual position appears to have started the continuous cycle - which forced the excessive thruster firings - but it was still not enough to lead DART into failure, according to the summary report. A computer logic setting that regulated how much weight the spacecraft gave its estimated and measured orbital speed and positions was set too high, allowing the initial glitch to continue, the summary stated.
Many of DART's failings could have been avoided if the mission's team members thoroughly reviewed and applied data and experience from previous NASA projects, investigators found.
NASA approved the DART mishap investigation board's report in February, but said last month that the document will be only released entirely internally as needed. NASA's Marshall Space Flight Center in Huntsville, Alabama managed the DART mission for the space agency.