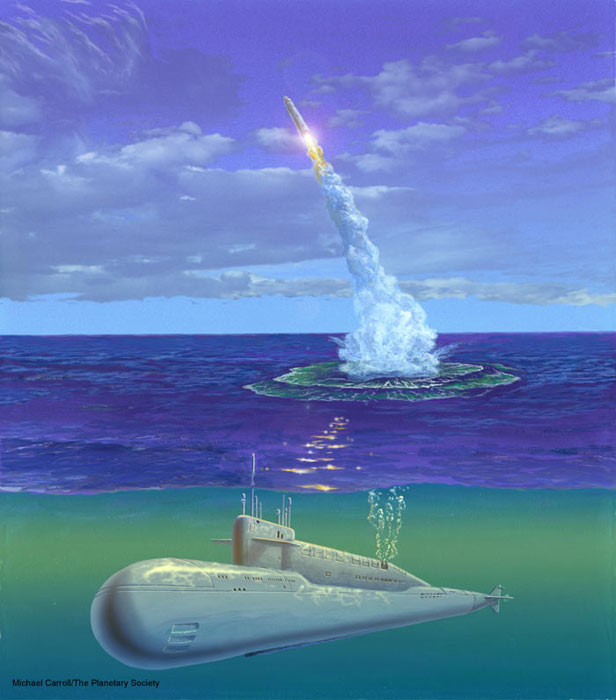 MOSCOW (Interfax) -- A strategic nuclear-powered submarine in service with the Northern Fleet (Project 667, Delta IV under NATO classification) has gone to sea and taken position to launch the Volna carrier rocket with a solar sail.
"The submarine has taken a position specified in the Barents Sea," a source in the Russian Navy General Staff told Interfax.
According to him, the rocket is to be launched on Wednesday night (3:46 p.m. June 21 EDT).
At the same time he did not rule out the feasibility of postponing the launch in light of the failed launch of the Molniya-M carrier rocket, carrying a military satellite, from the Plesetsk Space Center.
Vyacheslav Davidenko, press-secretary of the Russian Federal Space Agency, told Interfax-Military News Agency earlier that the launch of the solar sail was to take place at 11.46 p.m. Moscow time (1946 GMT) on Tuesday.
"The space launch will allow technologies to be tested. For instance, the spacecraft fitted with a solar sail will be able to move in space by capitalizing on the sunlight pressure," Davidenko said.
The solar sail is a special structure, coated with a light-reflecting compound and consisting of eight leafs with an overall area of 600 sq. m, which sustain the sunlight. On hitting the surface of the solar sail and being reflected, sun rays transmit their energy to the spacecraft. The sunlight pressure is extremely low, but given its constant effect, the spacecraft can reach high speed.