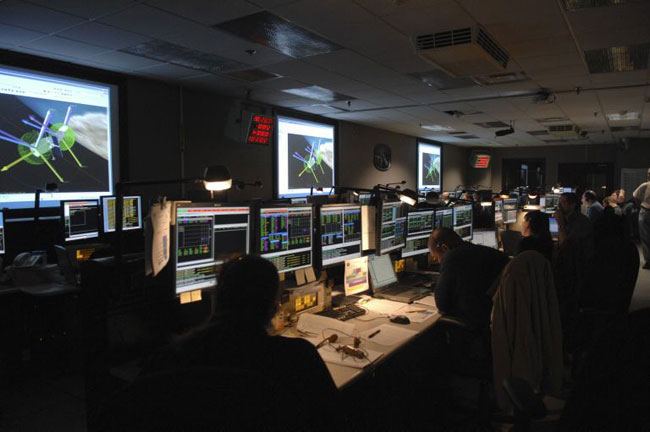 This story was updated at 4:46 p.m. EDT.
NASA?s long-distance effort to revive the ailing Hubble Space Telescope is going well, with the orbital observatory on track to resume science observations by week?s end, agency officials said Thursday.
The two-day repair began early Wednesday as NASA engineers began commanding Hubble from the ground to switch to a backup system after its main data relay channel failed last month. But remote control fix is tricky, requiring systems to power up after nearly two decades of hibernation.
?Everything is going fine,? said Susan Hendrix, a spokesperson at NASA?s Goddard Space Center in Greenbelt, Md., where Hubble operations are based. ?Everything is going according to plan.?
Hubble?s main science operations were silenced on Sept. 27, when the Side A channel of its Science Instrument Control and Data Handling system failed after 18 years of continuous service since the space telescope launched in April 1990. The malfunction prevented the otherwise healthy Hubble from sending home the bulk of its science observations, including the trademark views of space that have given the telescope its iconic status.
Hubble has a backup data relay channel, Side B, but the unit and five related systems had not been powered up since the space telescope reached orbit. After weeks of analysis, NASA engineers were confident the backup system could be activated and began the days-long process yesterday morning.
?I wouldn?t say it?s a dicey thing,? said Art Whipple, chief of NASA's Hubble systems management office at Goddard, on Tuesday. ?It is a complicated procedure and it is one we have not done before.?
If all continues to go well, Hubble could resume beaming home science observations by midday Friday, Hendricks added.
?The team worked well into the wee hours to accomplish what they did yesterday,? Hendrix told SPACE.com. ?The science instruments are going to take some internal exposures today and start calibrating.?
The calibration activities are expected to be performed before midnight tonight, NASA officials said.
Hubble?s recent glitch prompted NASA to delay the planned Oct. 14 launch of the shuttle Atlantis and seven astronauts to the orbital observatory for a final service call. That mission has been pushed to February 2009, with engineers hoping to send a spare data formatter to restore redundancy after the Side A failure.
New Video - Hubble Space Telescope Mission Control

Video - Hubble's Last Service Call

Hubble Images - When Galaxies Collide