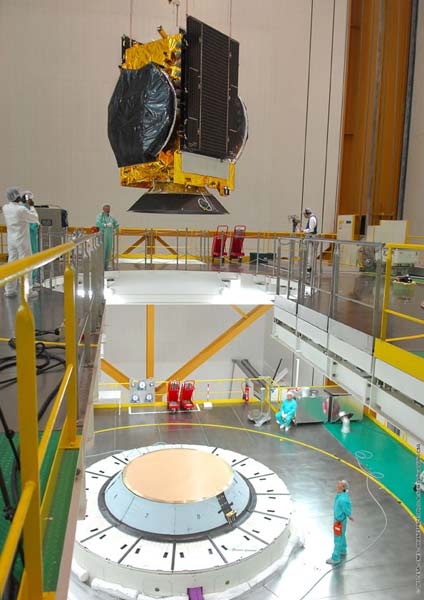 Two communications satellites will have to wait at least one more day for a ride into space after a glitch with their launch pad's water deluge system prevented the liftoff of an Ariane 5 rocket.
"We have decided to put a hold on the launch for this evening," Jean-Yves Le Gall, CEO of the Ariane rocket launch firm Arianespace, who announced the scrub at Europe's Guiana Space Center in Kourou, French Guiana.
The water deluge system floods the Ariane 5's launch site at liftoff as a safety measure to suppress sound and fire.
"It seems that we didn't have a total 100 percent guarantee of this occurring," Le Gall said, adding that without such assurances, launch controllers opted to scrub the space shot until Sunday to be safe.
A heavy-lift Ariane 5 rocket was slated to launch India's commercial INSAT-4B satellite [image] and the British Ministry of Defence's Skynet-5A satellite [image] at 5:25 (2225 GMT), though flight controllers called a hold seven minutes before liftoff due to the water system glitch. Attempts to work around the problem within the mission's 33-minute launch window were unsuccessful.
Le Gall said mission controllers are now working towards a possible Sunday launch attempt.
The planned space shot is expected to be the first of up to six launches for Arianespace in 2007.
All About Satellites