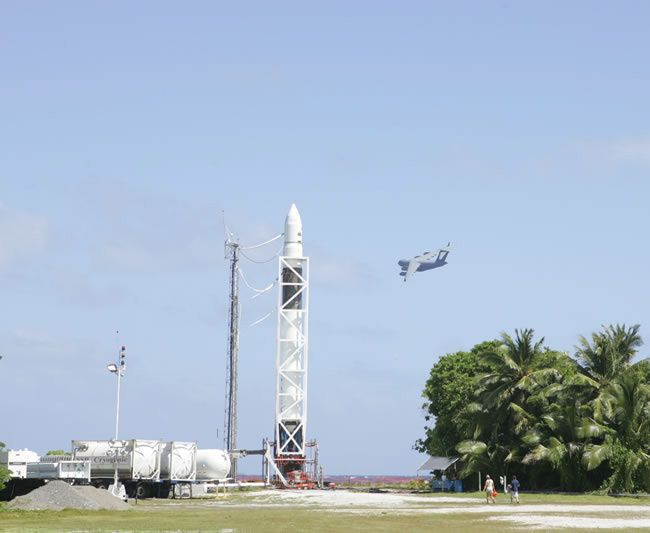 The private launch firm SpaceX is once again ready for its spaceflight debut as its first Falcon 1 rocket sits poised to launch later today.
"All systems have passed their prelaunch checkout and we are go for launch," said Elon Musk, founder of the El Segundo, California-based SpaceX, Sunday in a written update.
The rocket, whose inaugural flight for what SpaceX officials hope will be the first of a series of launches in upcoming months, is slated to lift off at 2:00 p.m. EST (1900 GMT) today from a pad at the U.S. Army's Ronald Reagan Ballistic Missile Defense Test Site on Kawajalein Atoll in the Marshall Islands chain on the Pacific Ocean. The planned space shot has an eight-hour window to fly, about twice that of a scrubbed Nov. 26 launch attempt.
That launch attempt was aborted due to a series of problems that included the loss of liquid oxygen fuel due to vent valve mistakenly left open, as well as a computer reset apparently caused by a brief power loss.
SpaceX officials said both problems have since been addressed and the rocket is again ready to launch its payload: the FalconSat 2 spacecraft built by cadets at the U.S. Air Force Academy.
The $800,000 satellite is part of a project by the U.S. Air Force and the Defense Advanced Research Projects Agency (DARPA) to offer students practical experience developing spaceworthy vehicles. FalconSat 2, which is designed to study how the space plasma environment interacts with navigation and communication satellites, has been ready to fly since 2003, USAF academy officials said.
Academy spokesperson John van Winkle said that, while FalconSat 2 cadets were disappointed by the Nov. 26 launch scrub, they understood the need.
"We understand that there are no do-overs in launches of this nature," van Winkle told SPACE.com. "And we've been waiting since January of 2003, and then were bumped for a ride on the space shuttle...so what's a few weeks, really."
SpaceX officials are slightly concerned about the potential impact of high winds for today's launch.
Falcon 1 rockets are designed to withstand winds speeds of up to 24 knots, and gusts of about 30 knots were recorded last week, SpaceX spokesperson Dianne Molina told SPACE.com Friday.
The rocket's extended launch window should allow launch officials some leeway to wait out any unfavorable conditions at the Kwajalein Atoll, where it will be 7:00 a.m. Local Time on Dec. 20 when the launch window opens.
"It's supposed to look good for Monday," Molina said. "Other than [winds] we're on target," Molina said.